Broadcast News
02/10/2017
XPression Tessera Drives North America's Largest Stadium Screen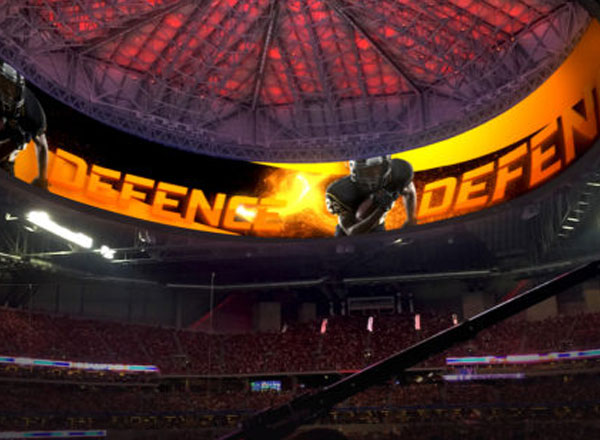 Ross Video has announced that several of the company's products power the video production and graphics at the new Mercedes-Benz Stadium (MBS) in Atlanta, which opened last month after three years of construction.
At over a billion dollars of investment, MBS – home of the Atlanta Falcons and FC United – is the massive sports venue project that features the impressive "Halo Board" display which measures 1,100' wide by 58' high, with an astounding 21512 by 1152 pixel resolution.
Ross' XPression Tessera powers synchronized playback from multiple 3D render engines to drive the massive Halo Board – the largest display in North America.
Kevin Cottam, Director – Sports & Live Events (North America) at Ross Video, said: "At the outset of this ambitious stadium build, there was no display control system available that could drive such an enormous display pixel accurately as one canvas, so we devised a plan to build one that would. The result is XPression Tessera which delivers pixel and frame accurately with synchronized playback from multiple real-time engines."
Pete Soto, Senior Director Game Presentation, Live Events & Stadium Production, AMB Sports + Entertainment, also said: "When we started this endeavor to build the world's largest video board we knew it was going to be a complex environment. Ross Video was not a vendor in this process, they were a partner and together we created a very cool presentation for the fans of the Atlanta Falcons and United.
"In a control room of this complexity, it was great to have Ross Video to help power our imagination in creating a unique fan experience for our fans. And we've only just begun."
In addition to Tessera, Ross provided two fully loaded Acuity switchers for the MBS control room, two Carbonite Solo switchers to drive an additional display, the Mega Column, with a 1416 by 2016 resolution, and openGear to integrate with other production equipment, along with supporting training and creative services.
rossvideo.com
Top Related Stories
Click here for the latest broadcast news stories.