Broadcast News
11/09/2017
Big Pic Media Sets Focus On Amsterdam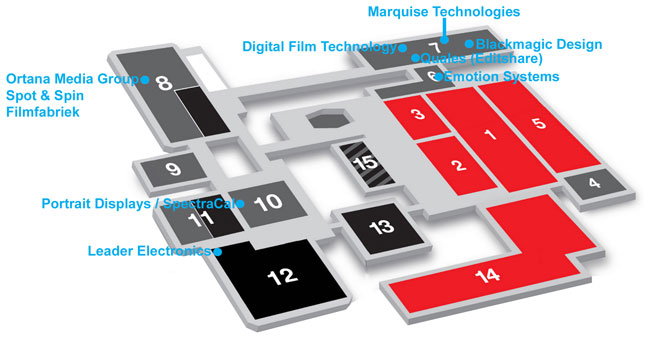 A number of senior representatives from Big Pic Media will be at IBC2017 later this month to meet supply partners and customers.
"Ten of the companies we represent will be exhibiting their products and services at IBC2017," revealed Adam Welsh, Managing Director, Big Pic Media. "These are Blackmagic Design, DFT, Emotion Systems, FilmFabriek, Leader Electronics, Marquise Technologies, Ortana Media Group, Portrait Displays, Quales and Spot & Spin. They will be demonstrating some of the world's most advanced broadcast media production and test equipment, software and services. We will be active on each of these stands during the show and, between times, catching up with customers in more relaxed mode at The Beach."
Blackmagic Design (7.H20 and 7.J14)
will demonstrate its Cintel Film Scanner – a real time 4K film scanner using 20 gigabit per second Thunderbolt 2. It incorporates a new diffuse high-intensity light source and provides the high resolution of a film scanner plus the real time performance of traditional telecine. New features include the ability to read Keykode as well as optical and magnetic sound direct from film in one pass.
DFT (7.D07)
will demonstrate new features for its Scanity HDR film scanner. Making wet scanning as easy to use as standard dry scanning, Scanity combines the speed and gentle film transport of a dry gate with the scratch removal advantages of a wet gate. Also on show will be the Scanity 4K HDR, using GB Labs' SPACE SSD Intelligent shared storage.
At
Stand 6.C28V, Emotion Systems Engine
is a file-based audio server which automates repetitive edit suite tasks such as loudness processing, Dolby E transcoding, stream processing, file wrapping, audio channel add/remove, language tagging and pitch correction. New features of Engine V7 will be demonstrated.
Filmfabriek (8.B38)
will exhibit the HDS+ film scanner with new capabilities including frictionless XL archival rollers for 8/16/9.5mm Pathé formats to digitise damaged, brittle or otherwise lost celluloid archives; real-time auto LED-levelling implementing the full dynamic range of the sensor to give lower noise, less banding and more detail in the shadow areas; motionless tension controllers; 8 mm magnetic sound head (16 mm optical and magnetic also available); low noise external amplifier; reversal film scanning mode.
The focus of the demonstration at
Leader's stand (12.A10)
will be the latest additions to the LV5490 4K/UHD/HD/SD multiscreen waveform monitor. Also on show will be the new LT4600A 3G multiformat video generator, HDR measurement support in the LV5333 and a 12G-SDI option for the LT4610 sync generator.
Marquise Technologies (7.H03)
will demonstrate HDR mastering and versioning workflows for high-end content. Its newest offerings fully support ITU BT2100 along with the HDR10 and HLG open standards, and Dolby Vision, allowing on-the-fly cross conversions between the standards.
Ortana Media Group (8.B38)
will highlight the latest additions to its Cubix media asset management, automation and orchestration platform, including the Cubix Cognitive Services module with features such as speech-to-text transcription, subtitle validation, language detection, image recognition and real-time content moderation.
Portrait Displays (10.A26)
, together with its SpectraCal brand, will show a comprehensive automated colour accuracy solution for HDR video displays including Samsung 2017 QLED TVs and 2017 Panasonic models.
Now an EditShare company,
Quales (7.C27)
will demonstrate the integration of its quality control system with Editshare's Flow.
Spot & Spin (8.B38)
gives film and television production and post houses an efficient way to ingest, archive and manipulate content without building up a large overhead of hardware.
www.bigpicmedia.net
(JP)
Top Related Stories
Click here for the latest broadcast news stories.