Broadcast News
30/08/2017
Ravensbourne's Radical Materiality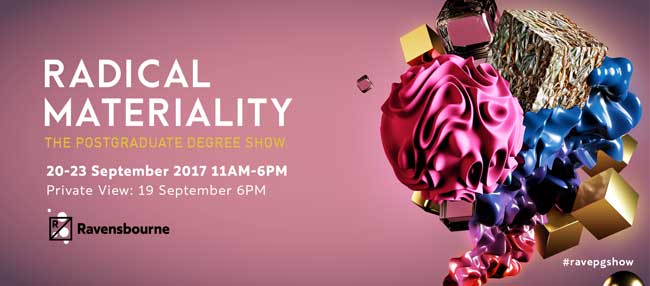 Ravensbourne is a world-class university sector college located right next to The O2 in south-east London. We are the only independent higher education institution with a longstanding specialism in design, media, communication and technology, ranked in the top 50 in the world for art and design (according to QS World University Rankings).
The portfolio of courses available at Ravensbourne spans short courses, foundation, undergraduate and postgraduate programmes. Our digitally innovative postgraduate degree courses apply the lens of design thinking to business and professional practice.
Between 20-23 September Ravensbourne postgraduate students will showcase their final projects in our annual on-site curated exhibition of interdisciplinary design works, fashion and art installations. This year's theme is Radical Materiality. Students explore the nature of matter in design processes through the transformative relationship of the digital and physical. In their work, on one hand the digital becomes tangible again by new making techniques, on the other, our body and senses are augmented and expanded by digital means. The show reflects on these shifts and the impact they have on how we approach the convergence of material and immaterial to create artefact and experience.
In the words of Professor Jeremy Gardiner, Head of Department of Postgraduate Studies, "the showcase is a celebration of the efforts of our postgraduate students who have produced an impressive body of work which captures the imagination, engages the intellect and excites the emotions (…) To produce the show has taken passion, skills, knowledge and a plan. Our students have provided the passion and the plan.The courses have provided much of the knowledge and the skills and have been made possible with the help of a dedicated and enthusiastic academic team of practising professionals. Together they have built an exciting studio environment where our students can explore, examine and experience a unique synthesis of broadcast and technology."
For students the annual showcase is a good opportunity to present their professional profile to the industry at a key moment of their professional development. According to MA Wearable Futures student, Judit Florenciano Ortiz, "the postgraduate show is an event where all the students are involved in different aspects as part of our Master's programme. Good management and the commitment of all the members of the team are key factors for the show to succeed. There is a great effort as a team to make sure the event is a success in order to showcase the diverse objectives of all the students."
However, the show also represents a challenge for all, as it comes at a time when students are fully immersed in their final submissions. According to MA Moving Image student, Enrique Munoz Jimenez, "it is a challenge worth facing with all our best efforts, as it is the final opportunity where we can showcase our work and everything we have learnt during our journey at Ravensbourne. It is also a team-bonding exercise, even when issues arise, because that is when we learn how to deliver a project representing many different people and approaches. At the end we all have the same aim, creating the best exhibition possible where we can surprise and inspire the visitors."
This year's exhibition will feature student works around the themes of entertainment, human perception, sustainability, education, architecture, economic growth and identity, to name but a few. One project explores how space can be simulated and transformed with the help of illusions. Another, through an immersive installation combining live performance with a mixed reality platform, depicts a migrant's journey. A board game aiming to entertain and educate the audience around diverse aspects and psychological applications of communication design and human perception is yet another project on display, all designed with the objective of questioning received wisdom and articulating a sense of meaning and purpose around innovation, digital spaces and design thinking.
"The postgraduate degree show is a very significant highlight of students' learning experience at Ravensbourne," explains Deputy Head of Department of Postgraduate Studies, Dr Brigitta Zics. "The exhibition provides a professional framework for students to publicly display their work for industry experts, peers and general public. It explores a common theme that reflects contemporary and philosophical concepts that engage designers and makers; we use the degree show to reflect on these critically, while at the same time contextualising them in practice."
Radical Materiality runs from 20-23 September and is open to all. To learn more and book your tickets visit
ravensbournepost.com
. For further information about postgraduate study at Ravensbourne visit
ravensbourne.ac.uk/postgraduate
.
Tickets to Radical Materiality, which are free, are available now. To register, and for more information, visit Ravensbourne's website here:
www.ravensbourne.ac.uk/events/2017/09/radical-materiality
.
This article is also available to read in the August edition of Broadcast Film & Video here, page 22.
Top Related Stories
Click here for the latest broadcast news stories.