Broadcast News
30/08/2017
Bexel Teams Up With Mylan WTT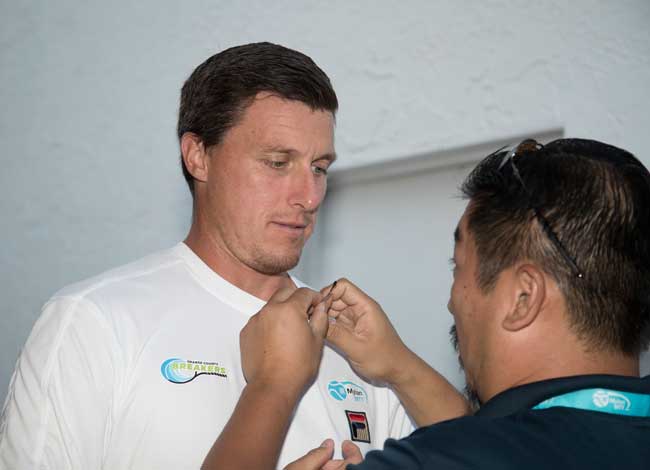 Bexel, an NEP Broadcast Services Company, recently supplied player-worn wireless microphones for the 2017 Mylan World TeamTennis (WTT) season.

The Quantum5X (Q5X) QT-5100 PlayerMic kits enhanced fan engagement and excitement to live Mylan WTT broadcasts. Developed by Quantum5X Systems Inc. in partnership with Bexel, the QT-5100 PlayerMic kits have previously been deployed in other sports broadcasts including professional basketball, but they made their live pro tennis debut last month. Bexel supplied the specialty wireless audio systems and provided an on-site engineer to support the remote productions in New York City and Washington, D.C., as well as the finals match in San Diego in which the Orange County Breakers defeated the San Diego Aviators.

Mylan WTT selected up to three players each match to wear the QT-5100 PlayerMics for its 'Sounds of the Court' feature. The concealed microphone and lightweight wireless transmitter weighs less than 2oz and is only one-third of an inch thick. A remote control device enabled operators to turn the sound relay on or off easily during play.

"The PlayerMics are one of the most innovative and impactful ways of getting fans closer to the action by letting them experience the high level of athleticism, strategy, and intensity that the best players in the world bring to the court," said Mark Ein, Mylan WTT co-owner and chairman. "The PlayerMics were amazing this season, as our fans loved hearing the behind-the-scenes strategy before the points and then watching how it played out in real time. There is nothing else like that in sports, and we believe this is only the beginning of what this technology will bring to tennis and to our viewers."

Lee Estroff, VP of Strategic Accounts at Bexel, said: "For 42 seasons, World TeamTennis has been on the forefront of game-changing advancements in tennis. With the PlayerMics, WTT is once again pushing the envelope of innovation – and we at Bexel are honored to be a partner as the league continues to advance the popular sport of team tennis."

Image: Use of PlayerMics at 2017 Mylan World TeamTennis Broadcast. Photo credit: CameraworkUSA.

Top Related Stories
Click here for the latest broadcast news stories.