Broadcast News
18/08/2017
PWS Frequency Coordination Services Kicks Into High Gear For 2017 Concacaf Gold Cup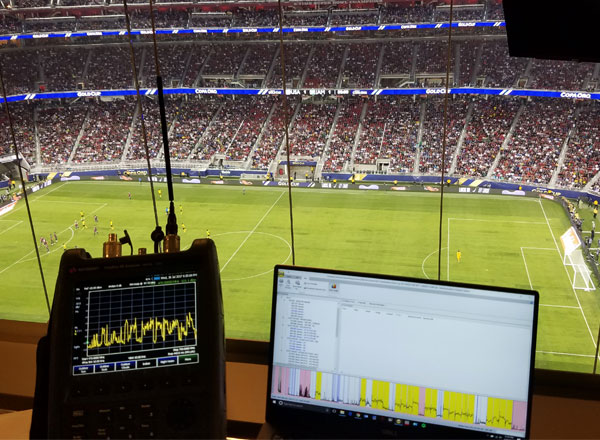 When the 2017 CONCACAF Gold Cup kicked into action at various venues around the United States, Professional Wireless Systems (PWS) was on location supplying overall frequency coordination for this multi-city soccer tournament.
The 2017 Gold Cup was held at 14 venues in 13 cities. The Dallas metro area hosted two match days during the Group Stage: one at Toyota Stadium in Frisco, TX and another at AT&T Stadium in Arlington, TX. Nine other cities hosted Group Stage matches as well, including Cleveland, Denver, Harrison, Houston, Nashville, Phoenix, San Antonio, San Diego and Tampa. The knock out rounds of the tournament were held in Los Angeles and Philadelphia. The final was hosted in Santa Clara, CA at Levis' Stadium.
Preparation for the frequency coordination of Gold Cup began about a month prior to the tournament via a website hosted by PWS. This served as a platform for all vendors of Gold Cup to identify what frequencies they planned to use. PWS coordinated the compiled frequency lists with the local Society of Broadcast Engineers (SBE) and submitted all of the SBE-approved frequencies to the FCC for final confirmation.
Kasey Gchachu, project manager, Professional Wireless Systems, said: "Coordinating a single location was fairly easy, but coordinating all of the cities and parties wanting to use the spectrum was the biggest challenge for us on this project.
"At each venue, we conducted a sweep of the area to ensure that the frequencies allocated were available. Once complete, we set up camp for the media and to handle any last-minute requests before moving on to the next venue. In addition, we had to make sure we stayed clear of all public safety frequencies, which differed depending on what city we were in."
professionalwireless.com
Top Related Stories
Click here for the latest broadcast news stories.