Broadcast News
04/12/2014
Sonnet Launches PCIe SSD Card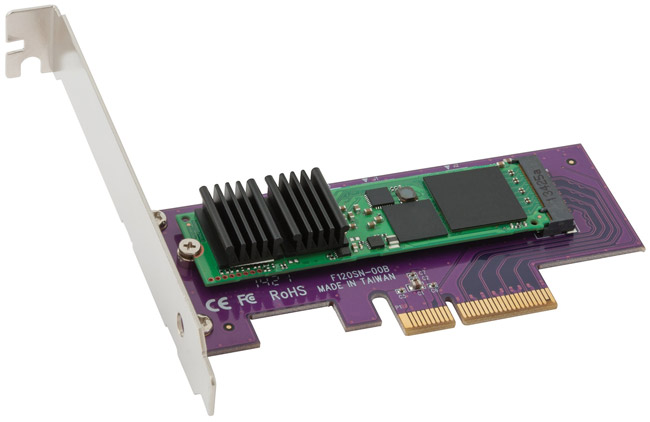 Sonnet Technologies has announced the Tempo PCIe SSD PCI Express (PCIe) solid state drive (SSD) card with a 512GB SSD module.
The Sonnet PCIe SSD card serves as an alternative to traditional storage solutions mounting a PCIe SSD on a card that installs into a computer's PCIe expansion card slot.
Sonnet designed the Tempo PCIe SSD card around an M.2 PCIe SSD module. Capable of transferring files at up to 1100 MB/s, the Tempo PCIe SSD's module incorporates a PCIe flash controller, enabling the card to outperform a 6Gbps SATA SSD, and to achieve better performance than two 2.5-inch form factor SATA SSDs configured in RAID 0.
The Tempo PCIe SSD is a low-profile PCIe 2.0 card with an attached M.2 PCIe SSD providing 512GB of storage. Its small form factor allows this card to be installed into any x4 mechanical or larger PCIe slot in a Mac Pro tower or Windows desktop or server computer, or into any Thunderbolt-to-PCIe card expansion system such as Sonnet's Echo Express line, xMac Pro Server, or xMac mini Server. This enables users to add high performance storage without increasing the computer's footprint.
With the Tempo PCIe SSD card installed in a Mac Pro tower or Thunderbolt-to-PCIe card expansion system, users can install OS X on the SSD and create a fast boot drive. In a Windows PC or Mac-based system, the Tempo PCIe SSD can be used for instant access media storage or as a high-performance scratch disk.
"The Tempo PCIe SSD boasts performance once exclusive to multidrive storage systems with eight or more hard disk drives plus a high-end RAID controller card," said Robert Farnsworth, CEO of Sonnet Technologies. "Through its wide compatibility and ultra-high performance, our Tempo PCIe SSD provides convenient internal storage expansion through any available PCIe slot."
Compatible with OS X 10.8.5+ (including Yosemite); Microsoft Windows 8 and 7; and Windows Server 2012 and 2008; the Tempo PCIe SSD (part number PCIE-SSD1-512-E) is available now at a suggested retail price of $799.
www.sonnettech.com/product/tempopciessd.html
(IT/JP)
Top Related Stories
Click here for the latest broadcast news stories.