Broadcast News
20/07/2017
Installation Cables – CE Marking Has Arrived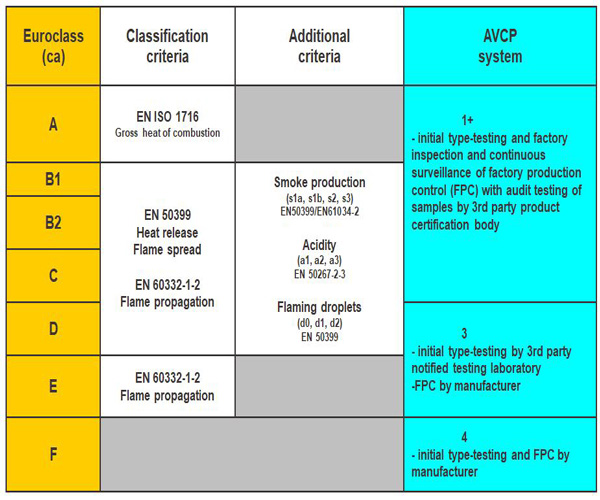 The Construction Products Regulations ("CPR") are fully in force from 1st July 2017 for all installation cables, whether they are data, audio, video or power, copper or fibre.
For the purposes of this legislation, "installation" is defined as "any cable put on the market for incorporation, in a permanent way, in construction works". Cables for deployable applications are not within the scope of the legislation and are not affected.
Any manufacturer must, for relevant cable supplied, declare its performance in terms of the reaction to fire properties laid out in EN50575. This can cover
1. Flame propagation
2. Heat release
3. Flame spread
4. Smoke production
5. Acidity
6. Flaming droplets
The cables must then be tested by a notified body to prove the performance, e.g. BASEC. When the manufacturer has this approval they must then produce, make available and retain for 10 years, a Declaration of Performance (DoP) document. The performance levels must be shown on the product labels as part of new CE marking requirements. A cable cannot be CE marked without notified body approval and the availability of a DoP. Where a distributor cuts a length from a bulk drum, the product and traceability information must be reproduced on a new label.
As with CE marked equipment, for cable manufactured outside the EU the importer ("point of entry") carries the responsibility for the testing and approval, labelling and issue of the DoP. For branded cables, common in the professional audio & video business, the brand owner (e.g. Canford) carries the responsibility for compliance and publication of the DoP, regardless of place of manufacture.
A historical curiosity of the CE labelling regulations is that the CE mark may only be printed on flat surfaces. Consequently, whilst the mark must be carried on labelling, it is not permitted to print the CE mark on round cables! If a cable is found with CE printed on it, it certainly does not indicate conformity.
Unlike existing British and European standards, the CPR is a legal requirement under UK law and can be enforced by the HSE and Trading Standards. As this is a fire safety standard, it is not expected to change after Brexit.
Products already in the supply chain at this date are not affected and can still be sold and installed. This will undoubtedly cause some initial confusion to customers, as cable in stock with a distributor, manufactured prior to 1st July 2017, does not require, and will not have a DoP or the associated drum or coil labelling.
EN50575 defines the seven classes of performance, from Aca ,the highest, to Fca the lowest (the subscript "ca" is simply the identifier denoting a Euroclass rating). Euroclass Fca cables are unlikely to be suitable for installations as they don't meet the most basic flame propagation test IEC60332-1-2. For most projects in the UK, Euroclass Eca or Cca are likely to be the ones found in the project specification (Euroclass Dca is only applicable to wood products, in case you wondered about the gap). Most existing LFH ("low fire hazard", also known variously as LSOH, FRNC, etc.) designs are likely to pass to Euroclass Eca which thankfully means no change in coaxial connectors. However, to meet the much tougher Euroclass Cca performance, new designs (and therefore new connectors) will be needed. There is likely to be a substantial cost supplement for these new designs, reflecting the materials needed but also the enhanced testing. A 40% uplift would be a good budgeting figure. It should be noted that the new standards do not have an equivalent to IEC60332-2-24, which only tested for flame spread. Where this is currently specified, there will have to be a migration to Euroclass Cca.
A common question relates to cable in 19 inch racks. These do not fall under the legislation definition of "permanent installation", so CPR does not apply to cable within racks. Cable installed fully in sealed metal containment (trunking) also is likely to be exempt, but this is a topic for the next release of the IEEE Wiring Regulations. In both cases however, best practice would always be to use Low Fire Hazard (LSOH) cabling for safety reasons.
At a future point the CPR will be extended to cover fire resistant cables. These are not covered by the current Product standard EN50575 and are currently excluded from CPR.
Canford acknowledges the assistance from Draka Cables in the preparation of this article. More detailed information can be found at
www.canford.co.uk/news
"LFH" is a registered trademark of Canford Audio PLC. "LSOH" is a registered trademark of Prysmian Cables Ltd.
Top Related Stories
Click here for the latest broadcast news stories.