Production News
18/07/2017
Three New Entertainment Shows Announced For Sky 1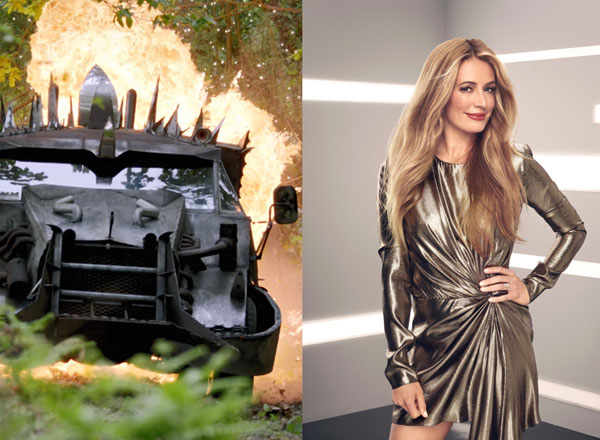 Sky Original Productions have announced three new entertainment shows for Sky 1.
The shows include, Sing It (working title), the first authentic a cappella singing contest, Revolution (also a working title), an extreme sport action-entertainment show that will pitch skateboarders, BMXers and skaters against one other, and Carmageddon (yes, a working title), an epic clash where pimped-up, battle ready cars will face their judgement day.
The three Sky Original Productions are part of Sky 1's plans to bring viewers new, ambitious and action-packed entertainment shows.
Sing It
With absolutely no backing tracks, no instruments and no second chances Sing It brings together 30 brilliant and diverse a cappella groups in a competition based on raw vocal talent. Host Cat Deeley makes a welcome return to British TV in her first UK presenting role since becoming a mainstay of American TV. 
The seven-episode series will test the groups in three rounds - a medley round, iconic artist covers and a final showdown between two groups – and unlike other shows there will be no backing tracks or instruments to hide behind. Across six heats, the groups will be judged by experts from the world of a cappella as they attempt to secure a place in the final. The ultimate winning group will get the opportunity to record an album at the iconic Abbey Road Studios, and have a single released in time for Christmas.
House group multi-award-winning vocal collective The Sons of Pitches will perform each week, as well as a famous musical guest. 
Speaking about the series Cat Deeley said: "I couldn't be more excited about Sing It...I remember singing in choir, when I was a kid and loving every minute! We have the very best performers on the show - they have no backing tracks and no instruments, just their own incredible voices and talent! The British a cappella scene is so exciting and I'm thrilled to be able to be a part of it."
Sing It is directed by renowned concert and music director Sam Wrench who has worked with the likes of The Weeknd, Coldplay and Mumford and Sons. The show is produced by Fizz, and executive produced by Peter Usher (Sing If You Can, Britain's Brightest) and Clair Breen (Britain's Got Talent, The X Factor). The commissioner for Sky is Bill Hobbins and the show will head to Sky 1 in September 2017. International distribution for the series and format will be handled by Sky Vision alongside Banijay Group who will be representing the format rights in their production territories.
Revolution
New large scale action-entertainment show Revolution is a thrill-packed war on wheels filmed on a jaw-dropping purpose-built course that only those with speed, skill and nerves of steel will be brave enough to face. The tournament starts on a vertigo-inducing platform high above the arena where 30 competitors – 10 inline-skaters, 10 skateboarders and 10 BMX riders – race to make it through to a series of exhilarating rounds. Over eight episodes our competitors will scare us, entertain us but ultimately impress us as they attempt to conquer the Revolution course.  
Revolution, due to air in early 2018, is produced by Znak & Co and Motion Content Group. It is executive produced by Natalka Znak (I'm A Celebrity, Get Me Out of Here!, Hell's Kitchen) and Glenn Coomber (Strictly Come Dancing, The Jump) for Znak & Co, and Abigail Adams (The Jump, Wild Things) for Motion. The commissioner for Sky is Bill Hobbins, and international distribution for the series and format will be handled by Sky Vision and Motion Content Group.
Carmageddon
Finally get ready for diesel-fuelled clashes and smashes, as Carmageddon hurtles its way to screens in 2018. The high-octane and humorous show will see teams of engineers, mechanics and drivers transform their wildest car concepts into a reality as they hand-build armed and battle-ready vehicles. Then, in a Mad Max-style combat in three vast arenas deep in the desert, six souped-up cars will battle it out using their bespoke weaponry… and only one will drive away and into the season grand finale.
The six-episode series is produced by Primal Media (a joint venture with Lionsgate) and Motion Content Group, with executive producers Mat Steiner and Adam Wood for Primal and Melanie Darlaston for Motion. The commissioner for Sky is Barbara Lee.
Phil Edgar Jones, Head of Entertainment at Sky, said: "We're making Sky 1 even bigger, bolder and better by bringing these three epic entertainment shows to the channel. The adrenalin-fuelled Revolution brings a unique entertainment spin on extreme sports, Carmageddon turns cars into monsters and Sing It celebrates the joy of the unaccompanied voice at its purest. There's something to get everyone either on the edge of their seats or dancing round the living room."
sky.com/sky-1
Top Related Stories
Click here for the latest broadcast news stories.