Broadcast News
28/06/2017
Telegenic's Simon Foster Is Mad About The MADI.MONI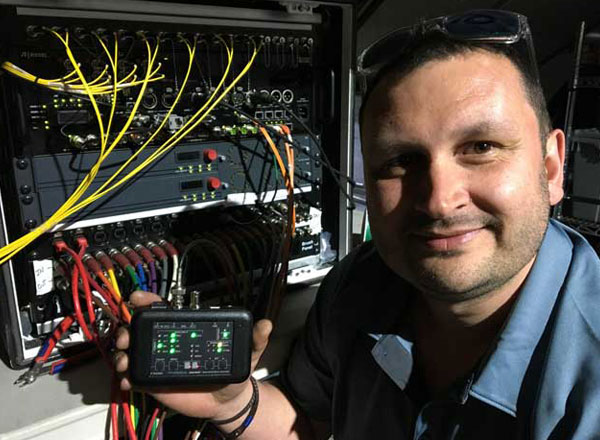 Alexa! Help me analyse my incoming MADI Stream.
Alexa! What audio is on MADI channel 64?
As the proud winner of the Amazon Echo from Aspen Media at the BVE broadcast event in London, I also got to demo the DirectOut Technologies MADI.MONI and whilst Alexa is good for playing radio stations and setting timers, the device is not good at checking MADI signals.
Telegenic has a long-lasting relationship with Aspen Media, and has purchased other essential MADI products such as the DirectOut SPLI.CONVERTER and MADI.SRC, so I knew the MADI.MONI would also be a well-built essential product.
The MADI.MONI had its first outing at a major golfing event held in Augusta USA. With multiple MADI streams incoming to the OB unit - course FX, program & intercom all via multiple patching centres, it was imperative that the MADI signals could be checked for amplitude and jitter and the all-important audio monitoring.
The MADI.MONI has all the above and with the flexibility of COAX, single mode or multi-mode optical SFP the unit is a must have for any audio engineer on a major event.
Word spread quickly in the Augusta TV compound as the must have (and only) MADI test device on site. Nearly every broadcaster borrowed the device to check the integrity of their own MADI signals.
Needless to say, the device is no longer on demo and is a permanent fixture of my tool kit – next stop a small football match in Cardiff.
aspen-media.com
Top Related Stories
Click here for the latest broadcast news stories.