Broadcast News
26/06/2017
Tightrope Media Systems Extends BrightSign Partnership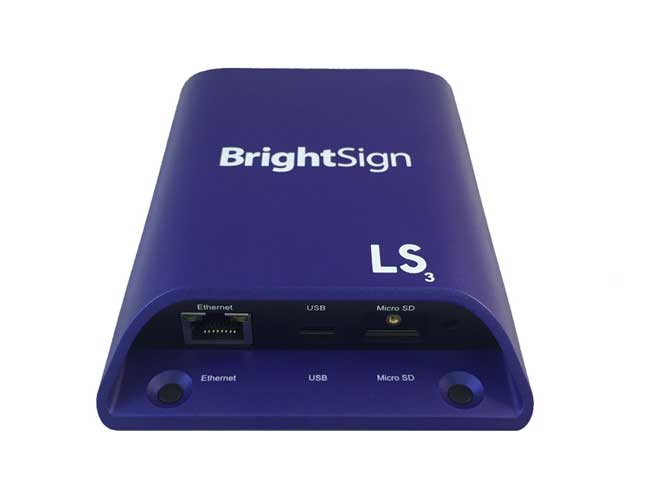 Tightrope Media Systems has announced that it has extended its partnership with BrightSign to span its entire product line.
Tightrope and BrightSign first announced an integration partnership for digital signage networks in 2014, merging Tightrope's content creation and management strengths with the reliability of BrightSign XD media players.
At the time, the central strategy was to lower the cost of deploying and scaling larger Tightrope Carousel Digital Signage networks, with BrightSign's affordability offering a cost benefit for integrators and end users deploying across multiple locations. In 2015, this partnership was extended to include BrightSign's XD2 players, which introduced H.264 video streaming support to enhance visual capabilities; faster HTML5 and graphics processing; and media player synchronization for video walls, among other features.
The latest development encompasses compatibility of all BrightSign players, such as the new Series 3 players, including the LS423.
Ann Holland, BrightSign's VP of Marketing, commented: "The integration between Tightrope's recently released Carousel 7.0 Software and the LS423 player echoes the core strategy of partnership – keeping costs manageable for customers. The small form, commercial-grade LS423 is fully featured to run circles around the competition. It offers HTML5 support, 1080p60 video, H.265 decoding, USB 2.0, and frame-accurate synchronization at only $250 list price."
"Tightrope and BrightSign have seen great success since coming to market together in 2014, and we continue to attract new customers by giving integrators and end users sensible options for affordable, reliable integrated solutions across content creation, management and playout," said Eric Henry, president, Tightrope Media Systems. "We anticipate even greater interest from a wider customer base as we broaden our integration strategy to span deployments of any size."
www.trms.com
(JP/MH)
Top Related Stories
Click here for the latest broadcast news stories.