Production News
23/05/2017
Filming Begins On Call The Midwife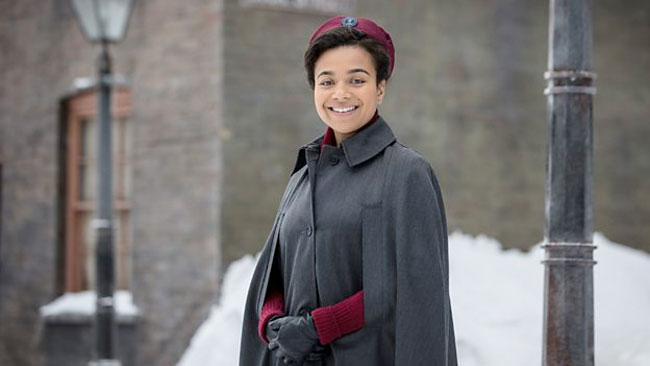 Filming has commenced on the new series of Call The Midwife, it has been announced.
There will be eight episodes in the new series (series seven), as well as a Christmas special. It is understood the Christmas special will air this year, with series seven following in 2018.
In series seven, the nuns and nurses find themselves tested both personally and professionally; they see the old East End vanishing, as slum clearances make way for new tower blocks to accommodate expanding communities. Their work brings them into contact with a range of challenging issues, from Leprosy, Tokophobia and Stroke, to Huntingdon's Chorea, Cataracts, and unmarried mothers.
Trixie's romance with Christopher continues to develop, while Tom and Barbara enjoy life as a married couple. Nurse Crane finds her authority questioned from an unexpected quarter, and Sister Monica Joan is forced to accept her failing faculties. And life for the Turners is turned upside down when Shelagh decides to employ an au pair.
Leonie Elliott joins the series as Nurse Lucille Anderson, the first West Indian midwife to feature as a regular character. Through her eyes, viewers explore the experiences of Caribbean nurses who came over in the 1960s to support the growing NHS.
The Christmas special, written by Heidi Thomas, opens with Poplar under a blanket of snow, as the midwives face the challenge of the coldest winter for 300 years. The winter of 1963 saw temperatures plunge to a record low and the whole country brought to a standstill due to the severe weather. Battling against snow, ice, power cuts and frozen pipes, the midwives strive to provide the best possible care for their patients.
Additional series seven cast include Jenny Agutter (Sister Julienne), Linda Bassett (Nurse Crane), Judy Parfitt (Sister Monica Joan), Helen George (Trixie), Laura Main (Shelagh Turner), Charlotte Ritchie (Barbara), Victoria Yeates (Sister Winifred), Jennifer Kirby (Valerie), Stephen McGann (Dr Turner), Jack Ashton (Tom), Cliff Parisi (Fred), Annabelle Apsion (Violet), Max Macmillan (Timothy) and Jack Hawkins (Christopher).
Heidi Thomas, Creator, Writer and Executive Producer, said: "The friendships, struggles and triumphs of women remain at the heart of Call the Midwife as we swing into 1963. With new mums ranging from a stripper to an Asian child bride, series seven will see our beloved Nonnatus House team stretched to the limit, as they face a series of medical, social and emotional challenges."
Pippa Harris, Executive Producer, added: "We can't wait to introduce the audience to our new midwife Lucille, played by the hugely talented and captivating Leonie Elliott. From her first audition Leonie managed to embody the essence of this elegant, intelligent, witty character whom Heidi Thomas has created with her customary skill. Lucille is a fantastic addition to the Nonnatus House team and we know she will be warmly welcomed by the nuns and midwives."
Call the Midwife is created and written by Heidi Thomas, Executive Producers are Pippa Harris and Heidi Thomas. Executive Producer for the BBC is Elizabeth Kilgarriff, with Ann Tricklebank as Producer. The Christmas Special and episode one will be directed by Syd Macartney. Call the Midwife is a Neal Street Production for BBC/PBS.
Image: BBC Media Centre.
www.bbc.co.uk/mediacentre
(JP/MH)
Top Related Stories
Click here for the latest broadcast news stories.