Broadcast News
26/04/2017
Green Hippo Part Of Globe's Biggest Music Show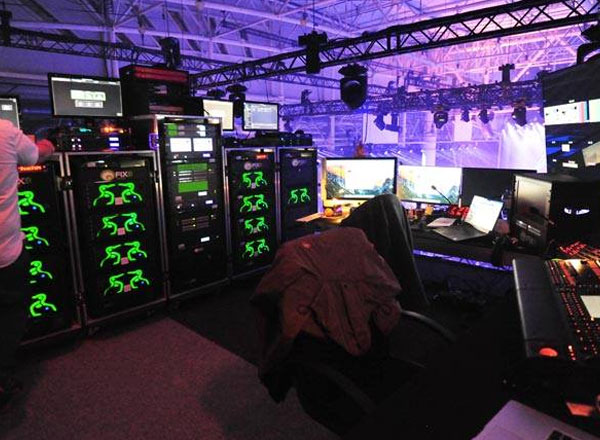 Green Hippo has announce its appointment as an official 'Technical Event Supplier' for the Eurovision Song Contest 2017.
This year's show, to be held in Kiev on 9, 11, and 13 May, will see Green Hippo's award-winning video playback equipment help deliver the 62nd contest to a TV audience of more than 200 million. It is not by chance that Green Hippo's Media Servers have been chosen by Eurovision Song Contest to support the majority of the shows since 2007.
Hippotizer's V4 software integrates ease of use along with the most innovative and highly advanced technological features; making it standing out as the Media Server of choice for high complexity projects like this. This is a truly global TV event, covering more than 50 countries, and including watchers in Australia, China, and the USA, as well as all across Europe.
Green Hippo, Digigobos / Beacon Gobo Group, FIX8 Group and Trust Rental will supply 16 Hippotizer Media Servers, bringing the Hippotizer line's renowned technical qualities - think pace, power, reliability, and real-time ease of use – to the stunning Kiev set.
This year's agreement builds on Green Hippo's flawless performance at Eurovision 2016, where the company's Hippotizer Boreal and Karst Media Servers helped propel the Stockholm spectacular to a record 204 million viewers.
Commenting on the event's success, James Roth, Head of Sales & Marketing for Green Hippo said: "As Technical Event Supplier, working alongside the designers, programmers and staging teams on such a complex project comes with a unique set of challenges. It's a major event and for this reason we provide full support with our own HQ team in situ in Kiev to back-up the efforts of our European and Ukrainian partners. I'm looking forward to the party!"
Nigel Sadler, Chief Technical Officer of Green Hippo also said:
"The Eurovision song contest is major show which pushes the boundaries of technical production technology every year, so we are very proud to have been chosen as the media server of choice on 7 of the last 10 shows incorporating video. The unique requirements of the show have helped to shape some of our most popular features in the Hippotizer product, and we hope that the relationship will continue for many years to come."
green-hippo.com
Top Related Stories
Click here for the latest broadcast news stories.