Broadcast News
28/02/2017
iMetaFilm Unveils New Studio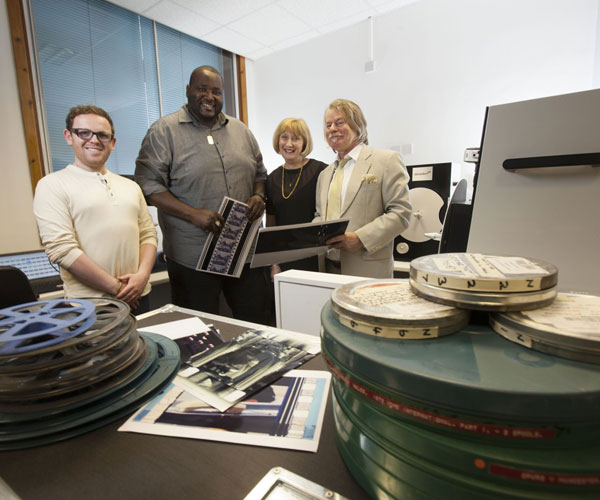 Quinton Aaron, co-star of Oscar-winning feature film The Blind Side with Sandra Bullock, has officially unveiled iMetaFilm's Glasgow studio.
The film digitisation and restoration company's custom-built studio at Charing Cross was opened at a reception on 23 February 2017.
Quinton Aaron made a special guest appearance with the producer of his new film, Halfway, Jonny Paterson. The film receives its international premiere later this evening at the Glasgow Film Theatre as part of the Glasgow Film Festival.
iMetaFilm uses revolutionary film digitisation technology to convert motion picture film reels to fully accessible, searchable digital files. Glasgow-based iMetaFilm has recently restored films from pre-revolution Cuba, and footage showing the forward-thinking care offered by Erskine Hospital over 50 years ago. 
The company has developed a patented method of storing metadata in films that enables the inclusion of key information including subtitles, languages, soundtracks, advertising and tags, allowing the films to be easily archived and preserved for future generations. iMetaFilm's technology also allows customers to preview digitised footage at a low cost before deciding whether to opt to fully digitise and archive a film.
Guests who attended iMetaFilm's official opening joined a Q&A session with Quinton Aaron and Jonny Paterson about Halfway, their experience of the film industry and the future of film. They were also treated to a tour of the studio and an exclusive screening of clips restored by iMetaFilm.
Michael said: "We're grateful to Quinton and Jonny for coming along and talking about their experience of the film industry. It provided us with a great opportunity to properly introduce our studio and demonstrate our unique technology.  
"Everyone can relate to film in one way or another. It's a fantastic cultural medium, which is why the work we do in preserving it is so important.  
"Our technology has the potential to generate a new branch of the creative industries based here in Scotland, but serving markets all over the world. Crucially, our technology is much more affordable than existing forms of digitisation."  
Quinton Aaron said: "It's an honour to be asked to help iMetaFilm launch their Glasgow studio. This is my first time in the city, but I know the company has been making a name for itself in the film industry recently.  
"It's been fascinating learning about the work that iMetaFilm does. In my career in the film industry, I haven't come across anything similar."  
Jonny Paterson added: "I don't come back to Scotland as often as I would like to, but it's very exciting to see how the country's film industry continues to develop and grow. iMetaFilm is in a strong position to make a significant contribution to the sector not just in Scotland or the UK, but internationally.  
"Film is an important part of modern culture and our sense of who we are. Looking after our film heritage is as important as supporting the production of new films."  
imetafilm.com
(MH/LM)
Top Related Stories
Click here for the latest broadcast news stories.