Broadcast News
23/02/2017
Lawo To Present Latest Solutions At BVE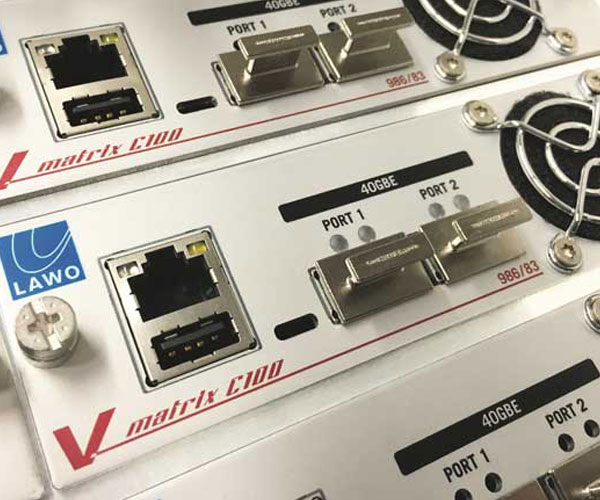 At this year's Broadcast Video Expo (BVE) Lawo has announced that it will present its range of IP-based broadcast video as well as its control and monitoring solutions.
All Lawo IP products are future-proof and are based on open standards such as RAVENNA/AES67, TR-03 and SMPTE2022-6/-7.
On show will be Lawo's mc²36, the all-in-one live mixing desk. It provides a comprehensive feature set covering broadcast, theater, house of worship, live and install applications. The console features uncompromised sound quality and Lawo-grade mic preamps, offering unprecedented value for money.
A powerful DSP micro-core with internal 512x512 port audio matrix, and integrated I/O make it ideally suited to permanent installations with limited space. As it is natively equipped with RAVENNA/AES67 technology, the mc²36 integrates seamlessly into IP infrastructures. In combination with the Nova37 hybrid audio router and mc² Compact I/O stageboxes, multiple mc²36 can be easily combined to a very smart package for networked applications.
Visitors are invited to check out the Lawo's V__matrix software-defined IP core for broadcast. This software-defined IP core routing and processing platform based on established data center principles – flexibility, fabric computing and COTS economics – is leveraged to provide a completely virtualized real-time broadcast production infrastructure. V__matrix uses multiple cores connected to a high-capacity COTS switch with redundant 10GE and 40GE connections to form a distributed IP routing and processing matrix with frame-accurate, clean switching – just like a legacy baseband matrix. Employing generic high-capacity core processing blades, software-defined Virtual Modules can be loaded to create any required functionality, enabling entire workflows to be remapped in minutes as requirements change from production to production.
Core processing blades are housed in 1, 2 or 3 RU frames, with physical connectivity to legacy SDI equipment provided through optional V__matrix I/O cards using Lawo's VSM Broadcast Control and Monitoring system as the control layer.
Lawo is also presenting the Virtual Studio Manager (VSM) and the WALL. VSM, the worldwide leading broadcast control and monitoring solution, which brings together all the requirements for a safe and flexible broadcast operation.
The "everything under one roof" philosophy unites technical devices and operators in a most adaptable way with user panels and software interfaces that can be configured to meet the requirements of different workflows and applications. theWALL is the ideal solution for operators and EIC to flexibly configure monitor walls in OBs or studios.
In the frantic live production environment with its demands for fast changing production and workflow setups, theWALL enables every member in the production team to change their monitor wall layouts in no time and on-the-fly.
Lawo equipment supports RAVENNA networking technology for the real-time distribution of media content in IP-based networking environments. RAVENNA already comprises all central requirements of the new AES67 industry standard.
lawo.com
(MH/LM)
Top Related Stories
Click here for the latest broadcast news stories.