Broadcast News
17/01/2017
Aspen Media Demonstrates Smart Audio At BVE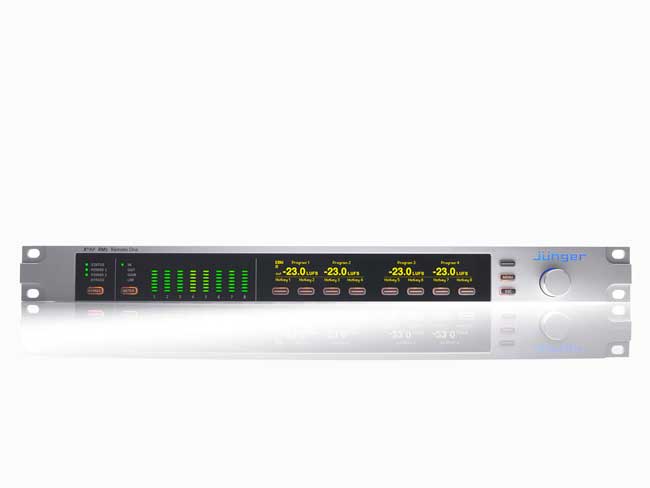 BVE, the UK's largest broadcast exhibition, will open its doors on 28th February and show regulars Aspen Media on stand F30 will once again be there to demonstrate products from its worldwide suppliers.
Smart Audio from Jünger Audio offers adaptive guarantee audio processing for the control and management of the audio in live, fast-moving News, Sport and Magazine television and radio production while assuring consistent volume, intelligibility and overall quality of content before it goes to air.
Visitors will learn how invaluable Smart Audio has proven to be in multi-skilled or single operator environments where their primary focus is on the practicalities and demands of a live production.
MADI specialist DirectOut Technologies is demonstrating its new and simple routing control for the M.1k2 MADI router.
As essential and powerful components of any broadcast system, audio routers must be capable of being individually and carefully adapted to the unique requirements of each system and its users and once configured the changes to settings and routing are often repeated, time after time. DirectOut has recognised this and added a simple and customisable programming module to the M.1k2 that allows users to build their own control panels using a simple scripting language. Consequently, commonly used set-up changes or routing pre-sets can be activated by a single click of the user-created button in the newly introduced control panel.
Stand F30 is the one to visit for those looking for network clock accuracy. On display will be the ARG Quarra 10100 PTP Smart Ethernet switch designed for use in Audio-over-IP and Video-over-IP networks.
It offers guaranteed best network sync and timing performance for PTPv2 Audio-over-IP protocols such as AES67, Ravenna and Livewire and up to 100-fold improvement in jitter performance compared with standard Managed Switch technology.
JLCooper is showing Proton for the first time in the UK. It is a compact, low cost video switcher control surface for Blackmagic ATEM. It earns its keep in live production, music festivals, lecture theatres and anywhere where speed of control is essential and is significantly easier and faster to use than a keyboard and mouse.
It has a small footprint and interfaces directly with Blackmagic ATEM Television Studio and ATEM 1 M/E Production Studio 4K and provides simple control of most ATEM functions and parameters.
Tac System, will bring the VMC-102 a multi-stem and 32 monitor-bus monitoring system for consoles and workstations mixing for Dolby Atmos or MPEG-H. VMC-102 utilises DirectOut ANDIAMO as its MADI I/O.
BVE 2017 will see the first showing in the UK of the Stage Tec Crescendo Platinum, a very flexible mixing desk offering a minimum of 8 to a maximum of 56 channel strips. The modular design makes the Crescendo Platinum the perfect choice for small or large studios and OB trucks and it's only 60cm deep.
It utilises the powerful and renowned Stage Tec NEXUS control system and delivers extended Mosart control with support for different cross-fade times.
www.aspen-media.com
(JP/LM)
Top Related Stories
Click here for the latest broadcast news stories.