Broadcast News
29/11/2016
Framestore Helps Deliver MARS Series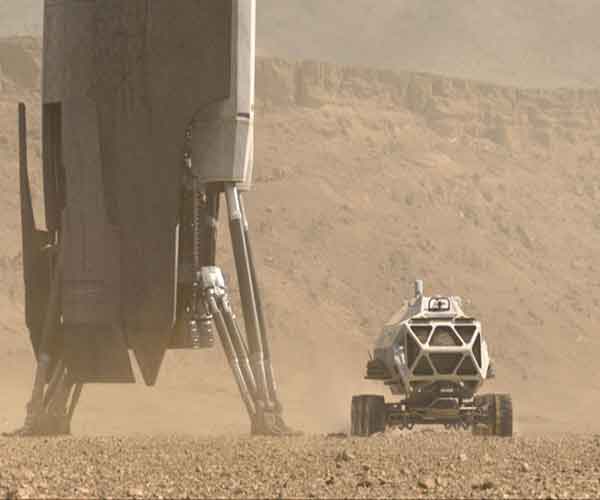 Framestore has teamed up with Imagine Entertainment, RadicalMedia and visionary filmmaker Everardo Gout (Days of Grace) for National Geographic's six-part series MARS, which premiered on the channel earlier this month.
MARS proved an irresistible prospect for Framestore, offering an opportunity to collaboratively shape the narrative of the series, whilst maximising a global pipeline to manage all aspects of the VFX and design components. Granted generous creative freedom by their partners to reimagine the traditional workflow, Framestore was able to combine its experience in visual effects with lessons learnt from pioneering innovation projects, forging a new path in television production.
The six-part global event series tells the story from the vantage point of a fictitious crewed mission to Mars in 2033. Executive Producers Ron Howard and Brian Grazer hand-selected filmmaker Everardo Gout to direct the episodes which were filmed earlier this year in Budapest and Morocco. The scripted portion focuses on Earth's first crewed mission to Mars aboard the spacecraft Daedalus. Its maiden voyage in 2033 is crewed by a carefully selected international team of six uniquely qualified astronauts.
Drawing on a portfolio of cinematic space work (Gravity, 2013; The Martian, 2015), as well as hits in television (Walking with Dinosaurs, 2000), the Framestore team was led by VFX Supervisor Russell Dodgson, Senior VFX Producer Michelle Martin-Richards and VFX 3D Supervisor Robert Harrington. They worked alongside Oscar- and Emmy-winning production partner RadicalMedia and its President of Entertainment and series Co-Creator and Executive Producer Justin Wilkes, plus Gout, from the earliest stages; defining the VFX needed to bring the story of Mars to life, whilst providing the creative solutions to do so practically for the small screen.
Justin Wilkes said: "As we've been pondering the question as to whether or not there's life on Mars, the incredible talents at Framestore brought Mars to life. And what a rich, beautiful world they created, informed by the available science and infused with a cinematic originality that will venture us closer to life on the Red Planet than anything we've seen thus far."
As overall VFX supervisor, Framestore both created key shots and managed various contributing VFX studios and specialists across the globe, whose work would feed into the drama of the show. To maintain one continuous look and feel across the series, Framestore headed a templated production process which would allow the casting of efficient VFX units according to the varying demands of six very different episodes.
This approach to production resulted in the delivery of over 1,000 shots across the series, designing and creating major assets including the Daedalus spacecraft, a rover, lava tube interiors, a subterranean habitat named Olympus Town, dust storms, habitats and equipment, as well as a vast number of augmented Mars exteriors. Framestore drew on National Geographic's team of science advisors, as well as in-house knowledge, to ensure a 'readable' narrative for the near-future setting of MARS.
Framestore's Design Studio was also key to the project, designing and integrating over 550 screens of UI work, explanatory graphics and the series' opening titles. The 80-second sequence is directed by Sharon Lock and set to an original composition by Nick Cave and Warren Ellis, and uses Rorschach mirroring techniques and shifting perspectives to allude to upcoming themes and events in the narrative.
UI Designer Nawaz Alamgir applied extensive scientific research to the art direction of MARS' myriad UI designs, featuring on the decks of the Daedalus spacecraft, the Mars rover and Mission Control. The work spanned both pre and post phases of production. The team also created a hologram, featured in Episode 4, which utilised VFX models of the Daedalus and their own 2D UI designs in the 3D space.
Russell Dodgson, VFX Supervisor, said: "MARS offered us a unique opportunity to revamp our approach to TV VFX production. Working closely with the development team early on, we were enlisted to help shape some of the narrative beats throughout the script to ensure that the VFX required would be both groundbreaking and achievable. The result is consistently high-quality VFX that work together with the other elements to tell this incredible story. By managing the entire VFX process, we were able to leverage a team of dedicated and skilled artists whilst offering RadicalMedia a single, consistent point of contact to work with throughout the process – and by managing all the VFX editorial components in London and NY, we were able to deliver shots quickly, effectively and, most importantly, in a client-friendly way."
www.framestore.com
Top Related Stories
Click here for the latest broadcast news stories.