Broadcast News
10/11/2016
Sony Unveils New FS7 II Camcorder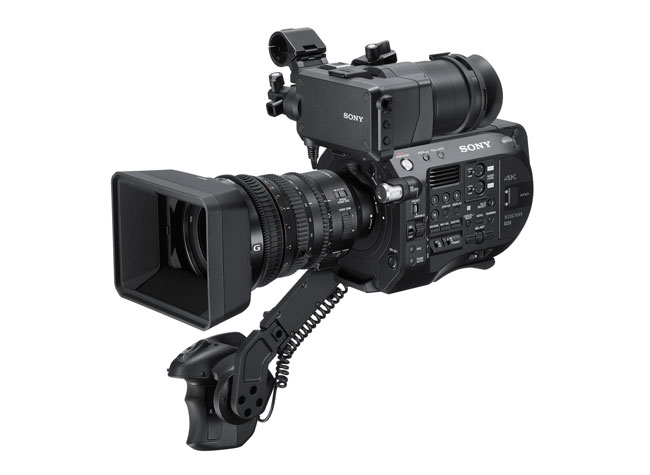 Sony has announced an addition to its FS Series Super 35mm range with the new FS7 II camcorder.
Building on the original FS7, the new camcorder features Electronic Variable ND technology, a lever lock type E-mount, and a new mechanical design for faster set-up. The FS7 II can record in BT2020 colour space. The camcorder has been designed for long-form shooting and production applications, particularly for documentaries and independent filmmaking.
The Electronic Variable ND Filter system, combined with a large sensor, delivers greater exposure control, with the option of preset or variable operation modes. Variable ND mode (clear + 2~7 stop range, in seamless transition steps up to 1/128) enables users to vary the density of the ND filter during shooting and to transition seamlessly between steps. This also ensures an optimum motion delivery by maintaining desired shutter speed.
The expanded ND operations allows fine exposure adjustment by relegating iris to set depth of field, prevents soft focus caused by diffraction, and prevents colour shift caused by stacking multiple external ND filters. The camera can compensate for exposure fluctuation caused by iris control while adjusting the depth of field. Users can adjust exposure while keeping the same bokeh in changing shooting or lighting environments.
Preset mode lets users assign three ND settings to the filter turret. Auto ND mode is also available, allowing exposure to stay at a fixed level while adjusting the depth of field with iris control.
The FS7 II's new has been designed for demanding applications in the professional environment. It will fit any existing E-mount lenses in the market and other mount lenses with an adapter. The camcorder also supports Sony α Mount System, which includes more than 70 lenses.
Elsewhere, the FS7 II features several design and ergonomic updates, based on customer feedback on the FS7 product.
The FS7 II "tool-less" mechanical design lets users make on-the-fly changes to the camera's set-up and operation. A detachable viewfinder eyepiece, which comes with a pop-up hood, provides a third stabilising contact point when shooting handheld. In addition, durable square section rods and lever-clamps on the LCD and camera body provide front-to-back VF adjustment while retaining level positioning.
Sony has also introduced a new E-mount, Super 35mm lens specifically designed for documentary and motion picture production. The lens – model E PZ 18-110mm F4 G OSS – covers Super35mm and APS-C sensors. Compact and lightweight it has an 18 to 110 focal range (6x zoom) and uses a new mechanical/servo zoom switchable system, capable of snap zooms and devoid of lag. The focal range is optimised for Super 35 and APS-C sensors.
The lens is compatible with Sony α Mount System cameras, including the α7 series interchangeable-lens cameras and Super 35mm 4K camcorders like the FS7 or FS5.
In addition, the FS7 II supports the XQD memory card format, designed for capturing and transferring high-bandwidth, high resolution files.
The FS7 II is planned to be available in January 2017.
www.pro.sony.eu
(JP/LM)
Top Related Stories
Click here for the latest broadcast news stories.