Broadcast News
21/10/2016
Riedel Confirms NAB Show New York Appearance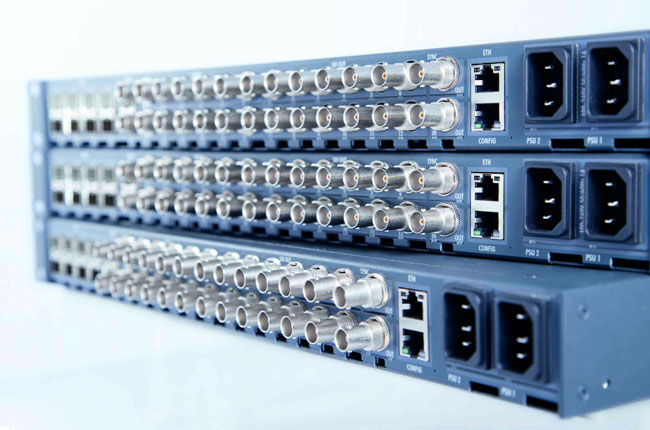 Riedel Communications has announced that it will appear at 2016 NAB Show New York next month.
At the show, the company will demonstrate a number of its solutions, including MediorNet MicroN as a Decentralized Router. MicroN is an 80G media distribution network device for Riedel's MediorNet line of real-time media transport and management solutions. Riedel will demonstrate how interconnected MicroN units can be deployed to create a decentralized routing system that distributes signal load, takes advantage of flexible node placement, and eliminates any single point of failure to create a viable alternative to traditional, monolithic routers. It features on-board signal processing capabilities including frame synchronization, embedding/de-embedding, and delays.
The RSP-2318 SmartPanel has been designed as a multifunctional user interface. Its feature set includes three high-resolution, sunlight-readable, multitouch color displays; premium-quality audio; a multilingual character set; and 18 keys in 1 RU. It also offers AES67 and AVB connectivity as standard and AES3 over cat or coax cable as an option.
The MediorNet Control App is the second App family developed for Riedel's SmartPanel interface. By equipping the SmartPanel with the new MediorNet Control App, users consolidate two panels into one that provides full intercom and control functionality. With the Intercom and MediorNet Control Apps running in parallel, the SmartPanel serves as an A/V control system.
The Expansion SmartPanel (ESP-2324) connects directly to Riedel's RSP-2318 SmartPanel, giving users an additional 24 keys and four high-resolution multitouch color displays. As many as four Expansion SmartPanels can be supported by the company's RSP-2318 Intercom app. Users also have the ability to extend their SmartPanel configurations to include up to 19 displays and 114 keys in 5 RU.
Other products appearing at 2016 NAB Show New York include the Tango Communications Platform, Artist Digital Matrix Communications Platform and MediorNet Compact and MediorNet Modular.
Joyce Bente, President and CEO, Riedel North America, said: "As the major annual media and entertainment technology show on the East Coast, the NAB New York show gives us valuable access to this critical market and broadcast and media operations of all sizes. During the show we'll feature our innovative SmartPanel multifunctional user interface and complementary Expansion SmartPanel. Now boasting both an intercom and control app, the SmartPanel brings greater versatility and control to signal distribution and communications applications. We'll also highlight our MediorNet MicroN that can be adapted to any of a number of production duties enabling reliable, cost-effective signal transport, processing, and routing."
www.riedel.net
(JP)
Top Related Stories
Click here for the latest broadcast news stories.