Broadcast News
14/09/2016
Rushes Delivers LV='s New Commercial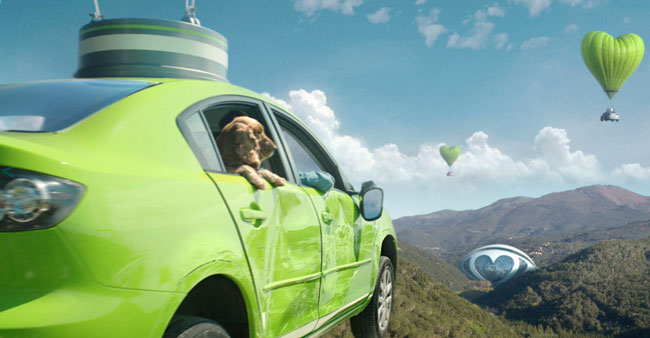 Rushes has completed a new commercial for LV= Make It Better.
For the project, Rushes used extensive VFX and CG elements which shows a family in their damaged car being carried by hot air balloons to an LV= repair factory, while a team of animated robots and machines quickly mend the car and put it back on the road.
Over the course of 10 weeks, the team at Rushes worked closely with Designate and the Director Eli Sverdlov; providing extensive concept design, on-set supervision and art direction, through to CG and VFX work and final delivery. All creative departments, resources and skillsets were involved to bring the LV= repair factory to life.
For the design of the interior space of the repair factory, Rushes worked with the director and agency to find a suitable location that would form the backdrop for the whole spot. In the Valencia building L'Hemispheric, they found an interior space with light and shade. After the shoot, the space was then heavily augmented with CGI to give the impression of a massive factory, populating it with conveyors, cogs and machinery, within a consistent clean visual style.
Matte painting and CG set extensions allowed control of the space and populate the scenes full of robots. Intricate and detailed animation allowed artists to breathe more character into the robotic family as the characters travelled through the friendly space before finishing their journey. All elements were then composited by Rushes' Nuke and Flame team before the finishing grade was applied.
Barry Corcoran, Design Lead, said: "From the beginning it was clear that we had to create characters that sat into a world full of charm and warmth. We were asked to come up with something different and decided to move away from the common iterations we've seen of robot designs and strip things back to something simpler, with a retro look and feel. The shapes and overall form of the robots were obviously important, though we wanted to move away from anything too futuristic, we also did not wish to create anything too steampunk or fussy in style."
Andy McNamara, CG Supervisor, added: "Above all, the design ethos was to lend some quirky humour to the spot and give it a fun friendly vibe that would come across in the performance of the robots. We created a 'family' of robots full of individual traits yet shared characteristics that sat into a world full of charm and warmth. We chose elegant shapes and simple materials to give a clean look but with a nod to some of retro-futuristic styling of the 50s and 60s."
www.rushes.co.uk
(JP/LM)
Top Related Stories
Click here for the latest broadcast news stories.