Broadcast News
30/08/2016
Clear-Com FreeSpeak II Selected For 2016 MTV VMAs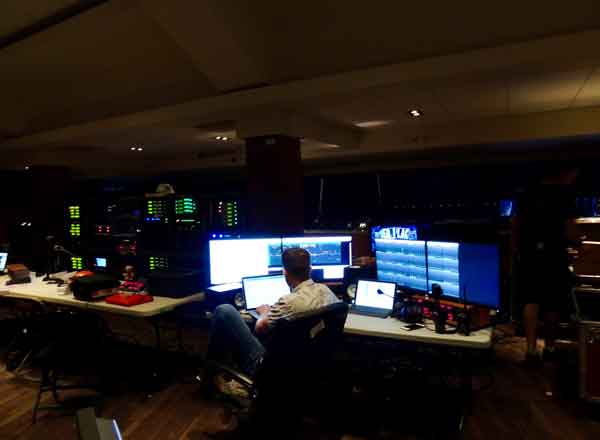 Firehouse Productions has revealed it selected the Clear-Com FreeSpeak II digital wireless intercom to connect the live production crew during the 2016 MTV Video Music Awards (VMAs).
The event, which featured performances, interviews, red carpet coverage and extensive social media exposure with A-list music industry stars, was aired live from Madison Square Garden (MSG) on Sunday, 28 August.
A total of 20 integrated Transceiver Antennas and 25 wireless beltpacks were allocated to cover the MSG venue. The Clear-Com FreeSpeak II product is capable of operating in both the 1.9 GHz and 2.4 GHz bands. FreeSpeak II wireless intercoms are particularly welcomed in crowded RF spaces like the VMAs. The per-user configurability of the FreeSpeak II wireless beltpack means that Firehouse can put each stage manager on a common channel, and then configure each beltpack's remaining four channels to connect to whatever groups they are associated with.
In addition, the 18 hour per charge endurance of the small FreeSpeak II wireless beltpacks was well received by Firehouse Productions. Each one can support up to five configurable channels per unit and they come with a convenient bottom-mounted LED flashlight.
Vinny Siniscal, Director of Firehouse's RF & Communications Division, said: "The MTV VMAs are incredibly challenging to produce live. With all the action taking place on stage, behind-the-scenes, and all over the arena, we've got 20 stage managers using the FreeSpeak II to stay on top of what's happening, with the lead stage manager, Garry Hood, calling the shots. The FreeSpeak II was able to support these 20 wireless positions, plus five more tech positions without any dropouts or dead spots. We knew it would work well in advance, thanks to the FreeSpeak II's innovative site survey mode."
Mr Siniscal added: "Having been involved with production equipment for the VMAs in one form or another since 2000 – previous years, coverage of this spread-out event has required a huge amount of wired and wireless infrastructure. But thanks to FreeSpeak II's ability to extend its wireless footprint merely by adding more transceiver antennas, we have created reliable, full coverage using a single Clear-Com Eclipse HX-Delta digital matrix equipped with two E-Que-HX cellular frame cards to elegantly enable the integrated FreeSpeak II wireless intercom solution."
James Schaller, Clear-Com's Regional Sales Manager, Northeastern USA, added: " Clear-Com is honored to have its FreeSpeak II system associated with such a major event as the 2016 MTV Video Music Awards.
"The FreeSpeak II wireless intercom system has worked flawlessly in many A-list Award Shows and Live TV broadcasts. It is definitely the de facto standard in wireless intercom systems for Live Event productions."
www.clearcom.com
(LM/CD)
Top Related Stories
Click here for the latest broadcast news stories.