Broadcast News
04/08/2016
Gearhouse Broadcast Delivers OB Facilities For Madonna's Tour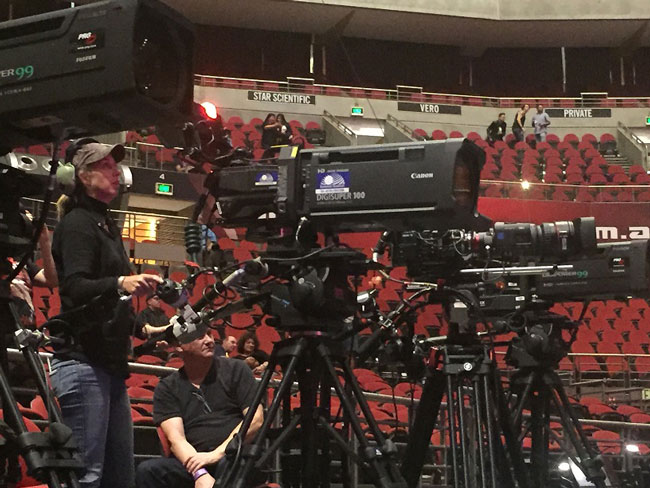 Gearhouse Broadcast were chosen by York Studios in Melbourne to deliver live music and OB production facilities for Madonna's Rebel Heart tour at Sydney's Qudos Bank Arena.
"Stuart Gosling at York Studios in Melbourne contacted us after he saw what we'd produced for Taylor Swift and wanted the same high level of production," said Manny Papas, Sales Director, Gearhouse Broadcast.
The facilities were similar to the Taylor Swift concert, with Madonna's tour production consisting of a mix of six Sony PMW-F55 large sensor cameras. These were used for close up and stage shots, while six broadcast cameras with box lenses were installed for longer coverage.
Gearhouse utilised the same HD6 'Entertainment' supertruck that was involved in the Taylor Swift event. On this occasion, it housed Madonna's creative team, the line cut, CCUs, three XT3 8-channel EVS live production servers and audio multi-track recording; in addition to the six PMW-F55 cameras with Fujinon 19-90mm Cabrio zoom lenses, six broadcast cameras with box lenses, a SpiderCam installed with a Sony P1 and wide angle lens, two Libre Hot Heads also with F55s and a 32 foot techno crane. The concert was recorded in 1080i/PsF 29.97 and ISO recorded every camera to EVS servers and hard drives.
Papas added: "The HD6 Entertainment supertruck is a vehicle specifically designed to handle large live concert gigs like this one. We also had to put film cameramen with focus pullers alongside broadcast guys which worked extremely well across both Saturday and Sunday shoots. The Rebel Hearts production was even more refined than previously as we were able to offer more options for how the SpiderCam and Libre Hot Heads were used."
"The industry talked after the Taylor Swift gig and it was clear Gearhouse was the go-to company for live music concert OBs," added Stuart Gosling, York Studios' EP. "These gigs are now a very big deal as the finished product is recorded, packaged and sold worldwide so the quality of the production has to be incredibly high. I'm very happy to say Gearhouse delivered on all fronts. We were delighted with the end result. Witnessing Gearhouse's production experience and quality of output it was clear to see they knew exactly what they were doing and how everything worked. It really was an excellent job."
Image: Gearhouse Broadcast at the Madonna Rebel heart concert in Sydney.
www.gearhousebroadcast.com
(JP)
Top Related Stories
Click here for the latest broadcast news stories.