Broadcast News
25/07/2016
Improved Vimond IO To Be Launched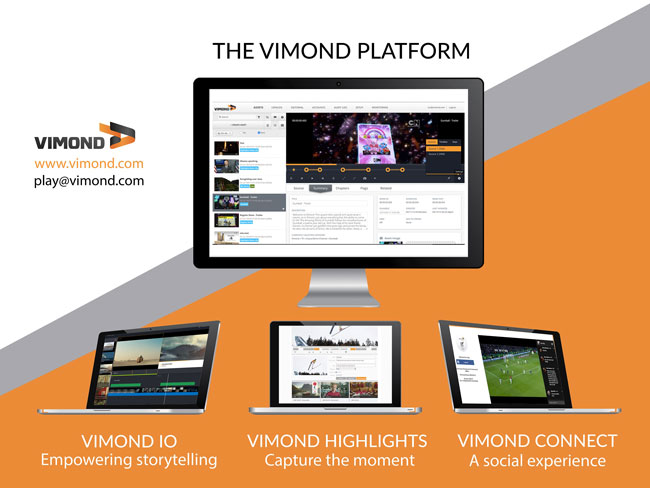 Vimond has confirmed it will launch an improved Vimond IO solution at IBC 2016 in September. The product will combine the features of two of its previously standalone digital video production tools – Vimond IO, and Vimond Highlights.
Vimond IO is a cloud-based, online video storytelling solution, while Vimond Highlights is a live-to-VOD conversion tool that supports rapid, short-form clip production and immediate publication. Vimond IO is a portable video editing workflow and storytelling tool, whereas Vimond Highlights provides a streamlined, live-to-VOD conversion process for high-volume, short-form clip production and direct distribution to social media channels.
The integration of these features will enable broadcast and online media journalists and editors to create short stories extrapolated from live streams and VOD assets, either for later use or for direct publishing to broadcast, OTT video and social media outlets.
From ingestion to publish, Vimond IO offers greater creative control and flexibility for multiple use cases within the same organisation, as well as reducing operational expense and increasing segment output.
The Vimond Rights Manager (VRM) allows OTT broadcasters and video publishers to manage complete content lifecycles, from acquisition to enforcing the rights associated with content encryption DRM, licences and enforceable licensing windows, number of streams, geoblocking and download rights.
Also on display at IBC 2016 will be the Vimond Platform; a broadcast-grade OTT video management solution. It is comprised of the Vimond Orchestrator and the Vimond Control Center, with additional product modules available as required. Altogether, they include Vimond Orchestrator, Vimond Control Center, Vimond Business Center, Vimond Experience, and Vimond Rights Manager.
Vimond Connect will be demonstrated at the show; this is the company's first venture into social TV, an area that will be increasingly important to online TV broadcasters and publishers.
Vimond Connect is a new way of socializing around on-demand OTT video content as it gives a viewer the option of commenting and receiving comments from either a public thread or from a selected private network of friends or colleagues. Viewers can directly address the storyline and events when they transpire. By tying comments to the temporal index of the player, viewers have the experience of receiving all comments in real-time as the videos play, as if their friends were commenting in real time, even though they might have watched and commented long ago. Each day brings a new layer of comments, reactions and discussions, enriching the experience and keeping the content fresh and interesting.
Helge Høibraaten, CEO of Vimond Media Solutions, said: "At IBC 2016, we will launch an enhanced version of our powerful cloud-based editing solution, Vimond IO, allowing creatives to easily produce new online video segments from live streams in addition to VOD sources, from any browser, on any computer, from any location and in real-time collaboration with others. We will be also introducing the Vimond Rights Manager, which integrates seamlessly with our existing control center to allow efficient, comprehensive management of all aspects of video-rights criteria in content lifecycles."
www.vimond.com
(JP/MH)
Top Related Stories
Click here for the latest broadcast news stories.