Broadcast News
28/06/2016
Riedel Solution For UEFA Euro 2016 Coverage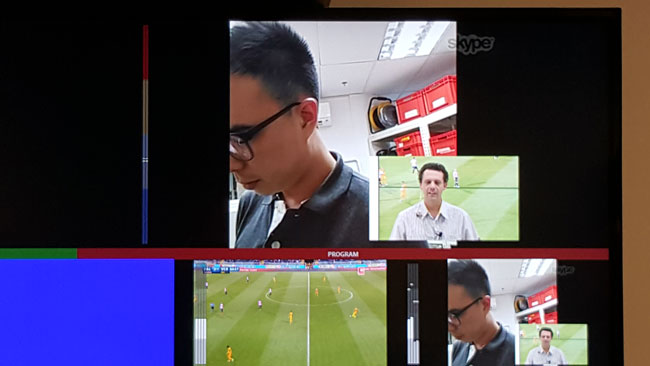 Riedel Communications has delivered its new STX-200 unit to Eleven Sports Network Singapore. The organisation is the exclusive broadcaster of all UEFA Euro 2016 matches aired in Singapore.
The STX-200 broadcast-grade professional interfaces enable Eleven Sports Network to bring any Skype user at any match venue into the professional broadcast. This allows the broadcaster to utilise user-generated content to further engage local fans in the event.
Built on the Skype TX client developed by Microsoft, the STX-200 is tailored to broadcast production. It features professional video interfaces including an SDI (SD/HD) input and SDI (SD/HD) output with a sync input, broadcast-grade audio interfaces including a two-channel, balanced analog audio XLR input and output, and SDI embedded audio. The STX-200 also features two Gigabit Ethernet connections, user-interface connection via two Display Ports, USB ports for accessories, and GPIs.
Built-in automatic aspect ratio conversion streamlines the process of adapting and integrating Skype video into live broadcasts, but the software operator can take full control over screen aspect ratios as needed. The Skype TX interface allows a single operator to preview and monitor the quality of multiple calls. A still image of the speaker is the automatic default in the event that video quality levels drop below a set threshold.
Alistair Roseburgh, Head of Content at Eleven Sports Network Singapore, said: "Riedel's STX-200 gives us an elegant and efficient solution for bringing timely user-generated content into our broadcast production workflow. The system offers valuable control functions and processing capabilities, ensuring exceptional audio and video quality while giving us a clean, reliable feed that adds a new level of interest to our football coverage."
"The STX-200 allows broadcasters to depend on Skype for consistent, reliable audio and video from people and perspectives that enrich the viewer experience," added Cameron O'Neill, Director, Asia-Pacific, at Riedel Communications. "As Euro 2016 play moves about France in the next couple of weeks, Eleven Sports Network Singapore can use this unique tool to bring a fresh, immediate feel to its coverage of each match."
Image: Eleven Sports Network is using a new STX-200 unit from Riedel to create an interactive experience for fans throughout its broadcasts of football matches.
www.riedel.net
(JP/MH)
Top Related Stories
Click here for the latest broadcast news stories.