Broadcast News
20/06/2016
Radium Audio Completes Work On 'Elvis & Nixon' Trailer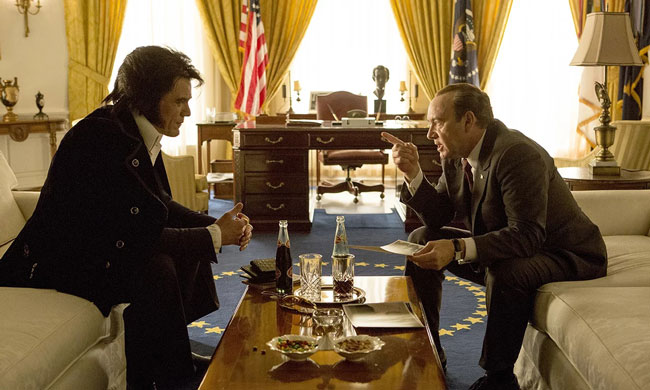 Radium Audio's Bristol arm, which is based at the Bottle Yard Studios in the city, has produced the 70s sound for the new US comedy-drama movie trailer, Elvis & Nixon.
The movie stars Kevin Spacey as President Richard Nixon and Michael Shannon as Elvis Presley. Based on a true story, the film focuses on 21 December 1970, when singer Elvis Presley met US President Richard Nixon. Arriving at the White House, the King of Rock'n'Roll requests a meeting with President Nixon to swear him in as an undercover agent in the Bureau of Narcotics and Dangerous Drugs. The movie has been co-written by Cary Elwes.
For the project, the sound and music team at Radium Audio's Bristol base took a real-world approach to creating a dual paced soundtrack for the trailer, incorporating live instruments with specially recorded guitar and drum tracks and big horn riffs, to make the music track reflective of the 70s. They also layered in some of the organically recorded and designed sound effects they're known for, including sparkles from their custom-made sparkle machine, Elvis karate swooshes, and special foley recorded live around The Bottle Yard Studios from old iron doors and external skips to get just the right intensity and timbre for the impact sounds.
Andrew Diey, Radium Founder & Creative Director, said: "This film is a story straight out of history, and we wanted our trailer soundtrack to really channel that. Musically we worked hard to bring out an early 70's Memphis gritty pop sound with a really fun flavour to reflect the feel of the film. But it wasn't until we researched and figured out how to create the sonically authentic hum and fuzz of the original USA guitar amps, which, driven by the US 60Hz power grid, is different to what we'd hear from a UK studio of the time, that we felt we were really getting to grips with the project. Once we mixed it all down to vintage tape for extra noise texture, we finally had the soundtrack we'd aspired to create for this trailer."
Fiona Francombe, Site Director of The Bottle Yard Studios, added: "In the six years we have been trading, we have grown an impressive creative hub of permanent on-site tenants providing a wealth of services for the media industry. As we ourselves are always looking to attract international as well as national and regional productions, we're delighted to see Radium Audio's expertise being recognised across the Atlantic with their strong US client base."
Image: Steve Dietl/AP.
www.thebottleyard.com
(JP/MH)
Top Related Stories
Click here for the latest broadcast news stories.