Broadcast News
08/06/2016
PHABRIX Expands Asia Presence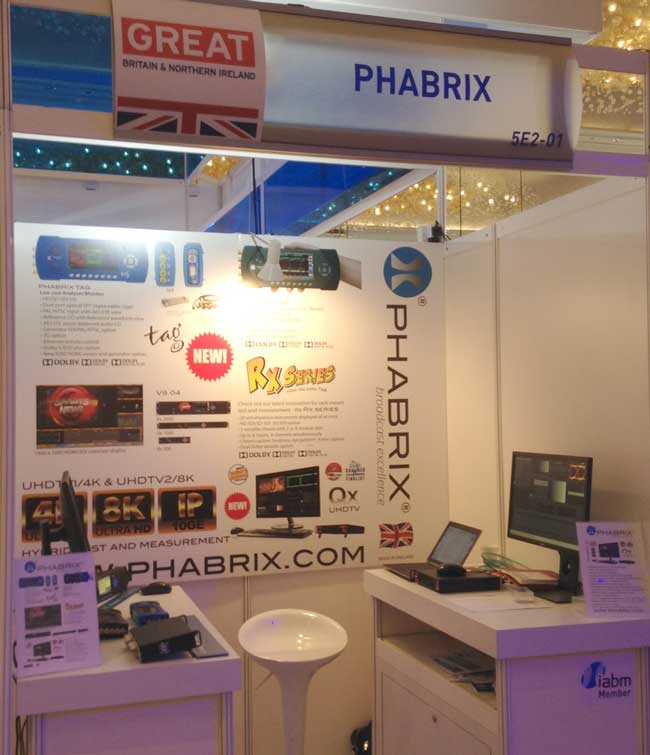 PHABRIX has increased its presence in Asia following a successful BroadcastAsia2016.
The company continues to increase its sales in the region and at the show, PHABRIX was represented on its own stand, as well as with its regional distributor Ideal Systems. Having been a regular exhibitor for the past eight years, PHABRIX used the opportunity to meet with its regional resellers who travel to the show from regions including the Middle East, India, China and S.E Asia to Australasia.
Ranging from the SxE with physical layer analysis to its new multi interface TAG with analogue, SDI, optical and SFP support, visitors were able to view a hands-on demonstration of the versatile range featuring a combined generator, analyser and monitoring toolset.
PHABRIX were also previewing the Rx rack mount T&M series with V9.04 software release as a free upgrade. Major broadcast customers using the Rx, such as ASTRO and Globecast, were able to see the new features which included ancillary line detect, enhancements to the revolutionary mix down audio feature set, new filtering on logging and true peak analysis added to the Loudness instrument which is standard on all Rx models. The combination of both video and audio toolsets in the one product is finding a ready audience in Asia where budgets have to provide as much value as possible.
With a large electronic manufacturing base in the region, the new PHABRIX Qx instrument – released at NAB 2016 with its hybrid toolset for UHDTV/4K and UHDTV/8K with IP analysis – was a show winner at BroadcastAsia2016. Featuring its RTE (trademarked real time eye) physical layer analysis toolset for 12G-SDI, the Qx is positioned well for broadcast manufacturers needing a cost-effective combined generator and analyser for compliance testing. In addition, a multitude of standards are supported by SMPTE.
Paul Nicholls, Director, PHABRIX, said: "Asia has always been an important region for PHABRIX and BCA provides the perfect show to bring the regions together. Our new features on display across the range were of interest to our many customers who have invested in their equipment. All were very pleased to see the leap technologically that PHABRIX had made with the Qx for UHDTV and IP."
www.phabrix.com
(JP/MH)
Top Related Stories
Click here for the latest broadcast news stories.