Broadcast News
16/05/2016
APAC Debut For Ikegami 4K UHK-430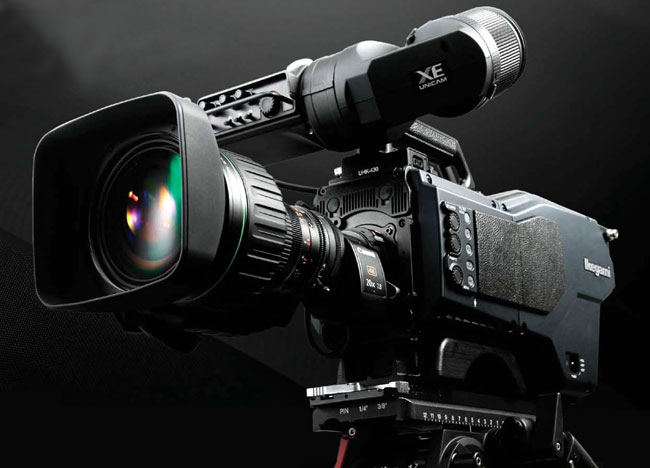 Ikegami will unveil its new 4K UHK-430 portable broadcast camera to the Asia-Pacific market at BroadcastAsia 2016.
The UHK-430 is the first in the company's new generation UNICAM XE range of cameras. It incorporates three newly-developed 4K-native 2/3 inch 8 megapixel CMOS sensors which provide full 3840 x 2160 ultra-high definition resolution plus the depth of field required for studio and outdoor production. The UHK-430 also delivers four times more image detail than high definition and has a colour depth of 10 bits per pixel.
The camera has a B4 bayonet mount compatible with 2/3 inch HD lenses. An optional SE-U430 expander accommodates large studio or OB lenses, while two-piece construction allows the sensor and lens head to be detached as a compact unit for easy deployment on support devices such as long-reach manually-controlled camera poles. In this mode, the head can be operated up to 50 metres from the camera body.
The UHK-430 also contains a new processor – the AXII – which reduces power consumption and delivers a range of features including 16-axis colour correction and new focus-assist for 4K and HD video modes. The AXII also provides the processing for Ikegami's i-Log transfer characteristic which delivers high contrast for a wider dynamic range. This allows more image information to be retained for greater headroom and colour grading. The ITU-R BT.2020 extended colour space specification is supported in 4K mode. BT. 709 colour space is supported in both 4K and HD modes.
Ikegami viewfinders available for the UHK-430 include the 7.4-inch OLED VFE741D, the 7-inch full HD resolution LCD VFL701D LCD and the 2-inch portable LCD VFL201D. All three include a serial digital interface for integrated camera and viewfinder menu control.
The companion Ikegami CCU-430 camera control unit enables easy migration from HD to 4K live production. Features include switchable 4 x 3G-SDI 4K output as well as HD output. An optional plug-in board makes 4K video, HD video, and HD cutout from 4K available simultaneously. 12G-SDI and video-over-IP interfaces will be introduced in the coming months.
A built-in 40 gigabits per second optical transceiver delivers full bandwidth 4K RGB 4:4:4 component channels from camera to CCU, allowing high quality chroma keying. Dual HD outputs are provided for teleprompt and talent monitor plus return video lines from studio to viewfinder. The UHK-430 also has a Gigabit Ethernet data port to allow networked control.
UHK-430 deliveries are expected to increase between June and October.
Image: Ikegami's 4K native UHK-430 portable broadcast camera and CCU-430 control unit.
www.ikegami.co.jp
www.ikegami.eu
(JP)
Top Related Stories
Click here for the latest broadcast news stories.