Broadcast News
05/05/2016
Riedel Lends Support To HardMoves SuperFinal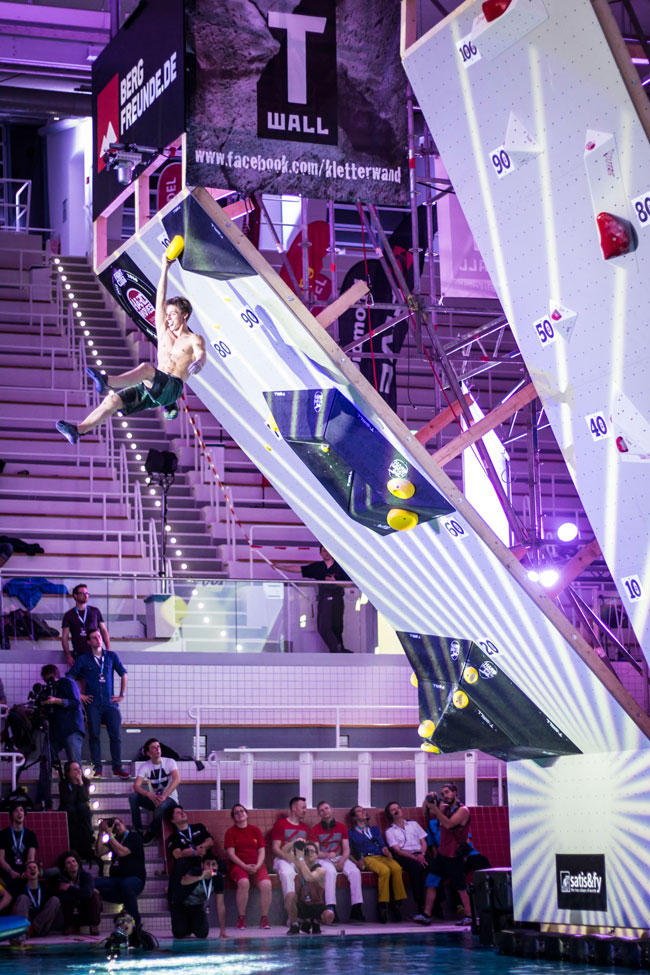 Riedel Communications has supplied the real-time media network and intercom system for the recent HardMoves SuperFinal in Wuppertal.
The event, which was held on 5 March, saw Riedel provide a MediorNet fiber network, Artist digital matrix intercom system, Performer digital partyline intercom system, and STX-200 professional Skype interface. The company also supplied a range of control panels, beltpacks and radios.
Over the past season, almost 7,000 climbers from six nations took part in the HardMoves series. Hosted in the city of Wuppertal, the final event of the HardMoves FightClub Edition 2015/2016 featured athletes climbing floating 7-meter-high walls in front of a crowd of 1,600, with another 2,300 fans watching on a giant screen at the nearby Historische Stadthalle.
To support audio signal distribution, Riedel tunneled AVB over a MediorNet fiber network to connect two Avid consoles from satis&fy. To create links between the three Schwimmoper locations and the Wuppertal city hall, more than 1km of fiber was used. Together, an Artist 64 system and Performer system enabled communications at the two sites. Riedel also supplied a wireless HD camera production unit, a commentary control panel and headset, and 35 analog radios.
Riedel's STX-200 interface facilitated real-time interaction between fans watching at a climbing club and the fans in the Historische Schwimmoper during the competition. Licensed by Microsoft, the STX-200 is a stand-alone, broadcast-grade solution that leverages Skype to bring live content from remote participants directly into the live production. Together, the STX-200, MediorNet, and Artist systems enabled transport of program video with embedded audio to production, as well as flexible routing of signals to individual Skype users using tablets and other smart devices. The MediorNet network also was used to feed several live streams to the Wuppertal city hall.
Hailing from Wuppertal himself, Thomas Riedel, CEO, Riedel Communications, said: "We first partnered for the SuperFinal in 2013 and were thrilled by the organizers' passion and enthusiasm. The HardMoves sporting standard is impressively high, and we were delighted to participate in this event again in 2016 as a local business."
"Unlike any other sports event, HardMoves allows world-class athletes to rub shoulders with complete no-names – the climbing pro meets the amateur, and anything is possible until the final move," added Ute Zimmermann of HardMoves. "With the support of Riedel's technology, we've been able to bring the exciting SuperFinal action live to fans watching just down the road and around the world."
"The strengths of Riedel systems really shine in live event production for extreme sports, and the popular HardMoves event in Wuppertal was no exception," said Rebekka Jacobi, senior project manager at Riedel Communications. "Our STX-200, MediorNet, Artist, and Performer systems made it easy to produce a highly dynamic and interactive live video stream worthy of the HardMoves SuperFinal."
The HardMoves event was organized by the team at Wuppertal-based Climb-Inn Klettersport GmbH & Co. KG, headed by managing directors Arndt Wilmanns and Christian Popien.
Image: Scene from the HardMoves Competition.
www.riedel.net
(JP)
Top Related Stories
Click here for the latest broadcast news stories.