Broadcast News
29/04/2016
AJA Unveils FS4 Frame Synchronizer and Converter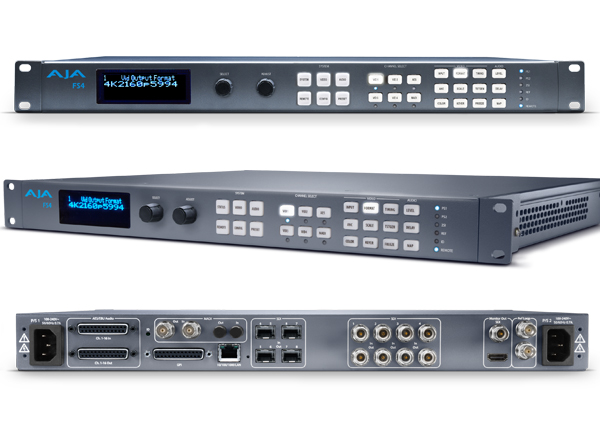 AJA Video Systems has unveiled FS4 – the most advanced all digital frame sync and universal up/down/cross converter ever from AJA, supporting 4K, UltraHD, 2K, HD and SD workflows in a 1RU frame.
FS4 offers unparalleled flexibility and offers two modes. Single-channel mode provides a full suite of video processing options for 4K/UltraHD with the ability to up, down, cross-convert to and from a 2K/HD/SD input or output.
Four-channel mode enables four channels of 2K/HD/SD simultaneous processing, offering multi-channel density at a very reasonable cost per channel. FS4 will be available for a US MSRP of $4995.00; significant price reductions of between $500-$1000 have also been announced for AJA's FS family including: FS1, FS1-X, FS1-X-FRC and FS2.
"FS4 is the first frame synchronizer to market with this range of 4K/UltraHD conversion options that can also be easily switched to multi-channel mode with up to 4 channels of simultaneous processing for 2K/HD and SD workflows," said Nick Rashby, President, AJA Video Systems. "It is endlessly extensible, and packs an incredible range of functionality and features into a very small 1RU footprint perfect for mobile production trucks and small facilities—really any production or post scenario where multiple formats are being used."
Key FS4 Features:
• Support for two modes: Four independent channels of 2K/HD/SD or Single-channel 4K/UltraHD frame–sync and conversion.
• 4K/UltraHD/2K/HD/SD video processing and up, down, cross-conversion.
• Full range of I/O options for 4K/UltraHD include Quad 1.5G; Dual 3G; and Quad 3G, 6G and 12G over a range of SDI and optional Fiber choices.
• SMPTE 2SI I/O support for 4K/UltraHD workflow options.
• Unprecedented four-channel 2K/HD/SD video processing and conversion.
• 1RU frame offering space, power and cost efficiencies ideal for broadcast trucks, post production or broadcast settings.
• Audio I/O processing with an incredible 272x272 matrix of audio possibilities; FS4 offers support for a flexible range of audio feeds from discrete AES to MADI and embedded SDI audio.
• Simple operation, a redesigned menu structure and quick access to features via front panel buttons or web UI.
aja.com
(MH)
Top Related Stories
Click here for the latest broadcast news stories.