Broadcast News
22/04/2016
Leader Selects Semtech For Next-Gen 12G UHD-SDI Interface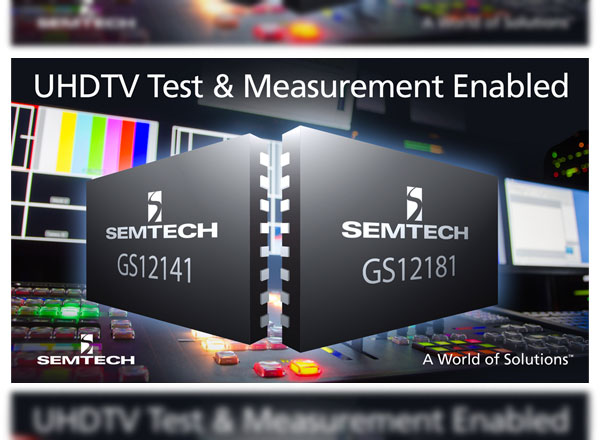 Leader Electronics Corporation has announced that it has selected 12G UHD-SDI technology from Semtech Corporation, a leading supplier of analog and mixed-signal semiconductors, as core elements of the new LV5490SER06 option card for the Leader LV5490 UHDTV waveform monitor.
Leader's LV5490SER06 is a 12G UHD-SDI interface option with eye-pattern monitoring and jitter measurement for the LV5490 UHDTV waveform monitor. The board includes Semtech's GS12141 retiming equalizer and GS12181 retiming cable driver.
UHD-SDI is the only standardized broadcast UHDTV interface. The GS12141 retiming cable equalizer and GS12181 retiming cable driver, with their advanced feature sets and class leading performance, enable a commercial off-the-shelf interface solution for UHDTV equipment and infrastructure.
"UHDTV infrastructures will require advanced UHD-SDI test and measurement capabilities", comments Mike Mizusawa, Sales & Marketing Manager at Leader Electronics Corporation. "Semtech is a recognized leader in 12G UHD-SDI interface and gearbox products. The advanced feature sets and high performance of its GS12141 and GS12181 uniquely enable our UHDTV test and measurement portfolio."
"Sophisticated test and measurement solutions are required to address the critical performance requirements of broadcasters as facilities are updated with UHDTV-enabled UHD-SDI infrastructures," adds Don Shaver, Director of Video Marketing for Semtech's Signal Integrity Product Group. "Leader's LV5490 waveform monitor, when equipped with the LV5490SER06 12G UHD-SDI option card utilizing Semtech's high performance 12G UHD-SDI solutions, offers powerful and flexible UHD-SDI test and measurement solutions for UHDTV facilities."
Semtech's UHD-SDI products feature ultra-low power consumption and provide industry-leading performance at 12Gbps rates. UHD-SDI is ideal for UHDTV infrastructures, including routers, cameras, monitors, switchers and more. UHD-SDI offers pristine image quality, is backwards compatible with existing SDI systems and is standardized by both the SMPTE and the International Telecommunication Union (ITU), simplifying UHDTV infrastructure upgrades and reducing risk for broadcasters.
leader.co.jp
Top Related Stories
Click here for the latest broadcast news stories.