Broadcast News
05/04/2016
Autocue Unveils iPad Prompting Solutions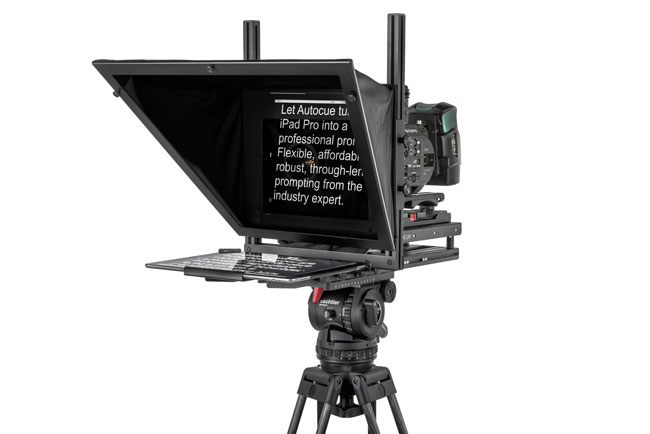 Autocue has unveiled a new range of prompting solutions for the Apple iPad Pro.
The solutions include options for the 9.7" and the 12.9" versions. The existing Starter Series iPad Teleprompter is suited for the 9.7" iPad Pro, while the latest advance to the Starter Series is designed specifically for Apple's 12.9" version. The new Autocue iPad Pro 12.9" Teleprompter provides an affordable, through-the-lens prompting solution for broadcast and video professionals looking for a robust solution to prompt on location.
The Autocue iPad Pro Prompter is a professional hardware solution which transforms the 12.9" Pro tablet into a through-the-lens mobile prompting solution with readability up to 15 feet. The Autocue iPad Pro 12.9" Teleprompter also enables a user to control the speed and direction of the prompter using an optional wired control as well as an iPhone or iTouch device.
This prompting solution also includes both Mac and PC QStart software so the iPad Pro 12.9" Teleprompter can be used in a traditional teleprompter workflow. For example, extending the desktop to the iPad allows the option to have a dedicated teleprompter operator, enables quick editing and provides a wide selection of teleprompter controllers.
"With the rise of tablets, we have seen smart devices get adopted in video production," said product manager Robin Brown with Autocue. "For teleprompting, the original smaller tablets are only useful for short distances such as five or six feet. The 12.9" iPad Pro represents a coming of age for the tablet as far as prompting goes. It provides a larger screen and better resolution which opens up the tablet's use to a greater variety of situations.
"The Autocue iPad Pro Teleprompters provide a viable multifunctional option for budget-conscious broadcasters and video production professionals. Instead of spending extra money on a prompter screen, which can only be used for prompting, the iPad Pro Teleprompters allow the user to utilize their existing iPad Pro," added Brown.
The iPad Pro 12.9" Prompter offers support for full-sized ENG broadcast and digital cinema cameras with lenses up to a 4.2 mm focal length diameters of up to Ø300 mm. With fully adjustable and collapsible architecture, the unit can be transported along with a mobile production. The optional carry case and controller accessories round out a workflow that will enable you to bring your production to the next level.
www.autocue.com
(JP)
Top Related Stories
Click here for the latest broadcast news stories.