Broadcast News
22/03/2016
How To Be Really Creative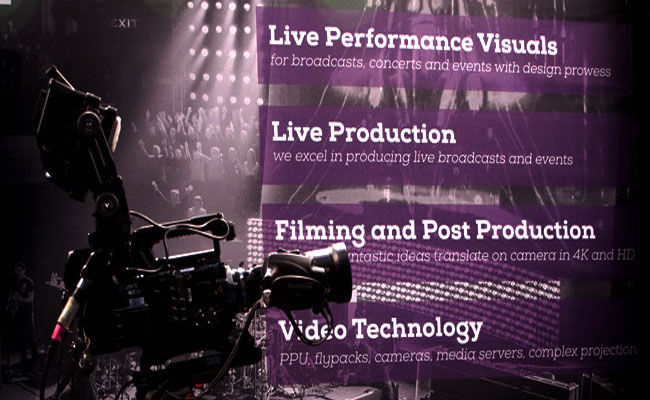 For those who didn't attend the BVE Expo at London's ExCel centre, the show was a cornucopia of technology, broadcast services, and industry insight. By Really Creative Media.
For us, this meant we walked away with a renewed sense of the power of production services to help elevate broadcast experiences and extend the footprint of live events. If you missed us at the event, here's a snapshot of what we had on show.
Filming and Post Production
We're big fans of 4K filming at Really Creative Media, and excel in producing stunning 4K and cinematic filming. Not only does it mean that content is rendered in the most stunning detail possible, it also means it can be broadcast further than ever before, not only turned into fantastic material for broadcast, but also stunning digital signage visuals and top-quality archival footage to ensure the longevity and value of the work. We also offer a great range of other digital content solutions including Live Performance Visuals, motion graphics, 3D animation, CGI and projection mapping.
Live Production
Live production is what we live and breathe, and we excel in providing and managing every aspect of it for fashion and music events. From managing the provision of projection, media servers, multi-camera systems, outside broadcast, show control, video, and lighting and sound, we pull it all together to give productions the wow-factor.
The most popular aspect of this at BVE was our work in live broadcast of events, in particular that via web stream. We've worked with top fashion brands to produce a stunning 4K live event with simultaneous live HD web broadcast – which we then used to produce an immediate highlights reel for the fashion community, social media updates, backstage video content, and a fully post-produced film for the brand to use in global applications such as digital signage.
Live Performance Visuals
One of the first things people saw walking onto the Really Creative Media stand was a great photo of Queen and Adam Lambert's New Year's Eve performances live on BBC 1 – for which we created bespoke performance visuals blending animated, abstract and archival footage to enhance the performance. Great for live music events, our live performance visuals went further with Queen on world tour, and even performed on X Factor!
Broadcast and Video Equipment Hire
Of course, no production can even kick off without the right equipment, and we do, of course, provide broadcast and equipment hire – as well as a top-notch crew, too – to our clients to help them bring to life their performance or runway show. On our BVE stand, we showcased one of our bespoke Sony 4K filming rigs, to highlight the quality and performance of the kit we use.
Really, BVE enforced that live production for broadcast is bigger than ever before.
www.reallycreativemedia.co.uk
(JP/LM)
Top Related Stories
Click here for the latest broadcast news stories.