Broadcast News
26/02/2016
Polaroid Remote-Controlled Panorama Eyeball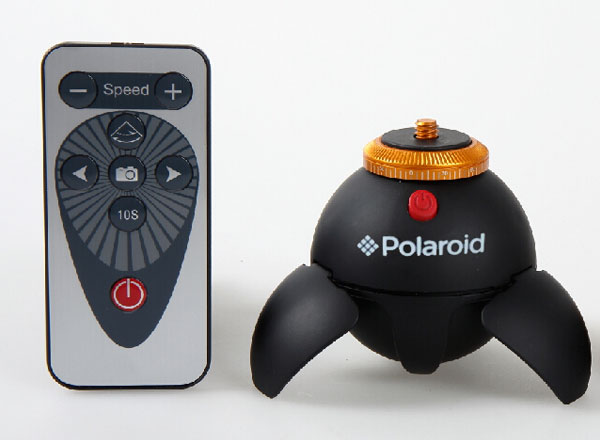 Polaroid have announced a new remote-controlled 360°panorama eyeball head accessory; a compact, portable freestanding mini tripod that can also be placed on a tripod, slider or even selfie stick.
Designed for Polaroid cameras, other small popular cameras and SLRs, the Polaroid remote-controlled 360° panorama eyeball head is ideal for creating the perfect panoramic video or picture. IR remote controls offer five speed modes, clockwise and counter clockwise rotation, as well as a triangle mode up to 75°.
Panoramic Shooting Made Plenty Fun
For the contemporary videographer, being able to capture expansive panoramic vistas without any shake or distortion is an absolute must. Thankfully, the Polaroid remote-controlled 360°panorama eyeball head delivers effortless and precisely controlled results. It is compatible with a range of action cameras such as the Polaroid Cube lifestyle action camera line and smaller digital cameras (with ¼" threaded hole). Attachment comes included.
Turns on a Dime – or Quarter
The Polaroid remote-controlled panorama eyeball head rotates your camera in its place, clockwise or counterclockwise, for smooth shooting action. Users can easily control the turning degree from 0 to 360°.
Heeds Your Need for Speed
Using the remote, shooters can also control the exact rotational speed. Press a button to speed up, and press a button to slow down. And thanks to finely calibrated gears, the action always remains perfectly smooth.
Functions Free or Mounted
At the top, a ¼" threaded screw connects to a wide variety of cameras. A padded platform prevents motion-related scratches. At the bottom, a ¼" threaded hole accepts tripod and slider connections for greater application flexibility.
Runs on Built-In Battery
To make this already compact and pocket-sized head as portable as possible, the built-in battery is rechargeable from any USB port or power outlet. A single charge provides five hours of standby and over three hours of non-stop runtime.
Polaroid.com
Top Related Stories
Click here for the latest broadcast news stories.