Broadcast News
29/01/2016
Broadcast Solutions Delivers 31 Camera OB Van To Qatar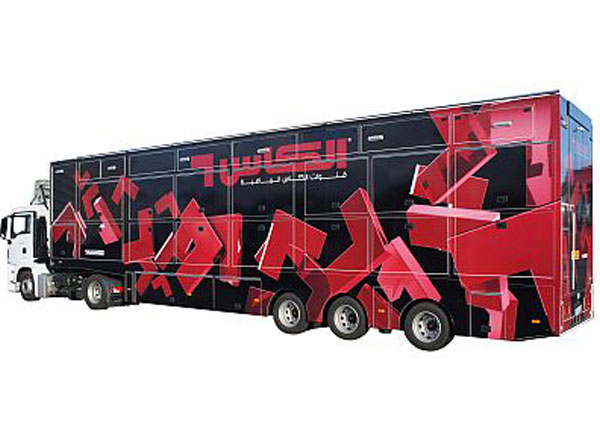 Broadcast Solutions has delivered a 31 camera OB Van, plus supporting truck, to sports channel Al Kass in Qatar.
Winning an international tender the OB Van was designed, built and integrated at the Broadcast Solutions headquarter in Germany. The live production vehicle named OB-10 is the biggest addition to Al Kass' OB Van fleet and will serve in major live events for the Al Kass sports channel as well as for further TV stations, when Al Kass acts as broadcast service provider.
For Broadcast Solutions the Al Kass project marked a further highlight in building live production trucks. The company again proved to have all the knowledge and staff to design and build an OB Van for 31 cameras and 29 crew members with special coachbuilding, tailor-made interiors and technological solutions in time and budget and to the customer's satisfaction.
Mr. Samer Younes, technical advisor at Al Kass, said: "This project is the first cooperation between Al Kass and Broadcast Solutions. We were looking for companies that reach our demands for high-quality and specialized OB Vans and who work as a full-service provider – we found this here at Broadcast Solutions.
"The company has a more advanced approach to resources and the number of cameras to include directly in the OB. Broadcast Solutions helped us to reach our design goals for this OB Van, which is the biggest one in the Middle East, and we are looking forward to many big productions with this OB Van."
The Al Kass OB-10 is a comfortable OB-Van solution with a massive amount of equipment integrated. Customer Al Kass can draw on 31 cameras, 9 EVS XT-3 servers (12 channels each), 68 monitors and 240 multiviewer screens for up to 29 operators working in the OB Van. To provide enough space for all equipment and manpower Broadcast Solutions opted for a trailer design with a single expansion (1.6m) over the full length of the trailer.
With a length of 16.5m (with tractor unit), 2.5m (expanded 4.1m) width, 4m height and a weight of 37t OB-10 works with maximum dimensions and optimized weight. Because of the protruding expansion Broadcast Solutions focused especially on chassis stability. No additional stands are needed for the OB Van to be in duty and manned. A further topic the customer addressed was the quick setup time, which Broadcast Solutions solved – OB-10 is in operation within 20 minutes from driving status.
broadcast-solutions.de/en/
Top Related Stories
Click here for the latest broadcast news stories.