Broadcast News
17/12/2015
Strong Demand For Custom Consoles' Products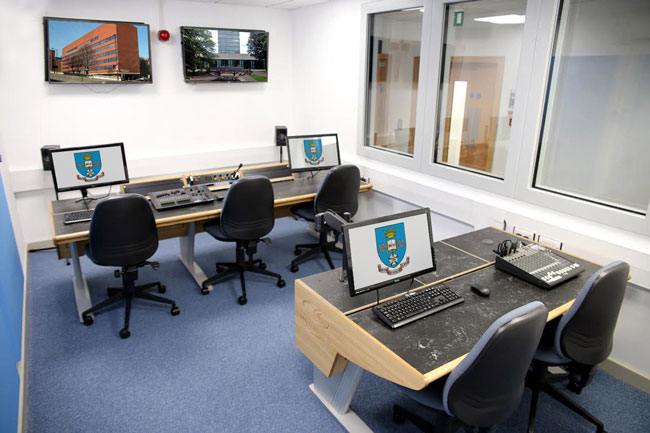 Custom Consoles has reported a strong demand for studio control desks and monitor display walls in the broadcast media training sector. The demand has been fuelled by major upgrades at some of the UK's leading universities. In recent months, completed projects have included Module-R Lite desks for a new state-of-the-art Broadcast Zone at the University of Sheffield's Department of Journalism Studies. The desks forms part of a production suite which also includes a multi-camera HDTV studio, voiceover booths and a radio studio.
A large Custom Consoles Module-R production desk, MDesks and MediaPosts are being installed in a new television studio gallery currently under construction at another leading UK Midlands university campus. The production desk is a wide rectangular design facing two Custom Consoles MediaPost monitor mounts which are combined to form a 4 metre wide display wall. These support 50 inch LCD video screens and monitor loudspeakers. Two additional MediaPosts, are separately located for viewing by students.
"Other recent educational-sector projects include a large installation newly completed for a major university near Manchester," said Custom Consoles' Sales Manager Gary Fuller. "This comprises a 3 metre wide five-bay inline desk with a dual MediaPost monitor wall. Further south, in London, we are currently completing a studio furniture installation including nine EditOne desks and a three-bay inline Module-R.
"We also provided a suite of technical furniture for Southampton University. Working in partnership with Alton-based systems integrator Broadcast Networks, this project included a control suite and support facilities for each of two vehicles required to control flying drones and other forms of robotic device. The challenge was to fit four control and video monitoring positions into each of two Mercedes Sprinters. Each operator has access to a 24 inch video display and a 1 rack unit control panel set into the desk top. Key considerations were obviously good ergonomics, robust construction, attractive styling and avoidance of excessive weight. This solution proved effective on every count.
"Our desks and monitor display mounts are popular in the education sector because students progressing into the broadcast industry will find exactly these products used at almost every studio site they visit. The broadcast industry in turn chooses Custom Consoles furniture for its good ergonomic features, robust build, attractive styling, integral cable management and aggressive pricing. Module-R is particularly successful because customers or systems integration partners can specify tailor-made solutions from a cost-efficient range of standard elements, including the option of height adjustability."
A mix-and-matchable control room furniture system, the Custom Consoles Module-R product range allows long-life desks to be configured to meet specific shapes and dimensions from a selection of high-quality pods, base sections, 19 inch rack housings, worktops, end-panel modules and legs. Coordinated desk pods are available as single-bay sections with up 10U chassis capacity.
Module-R Lite is identical in design to the standard Module-R range but based on 930 mm front-to-back rather than 1,200 mm front-to-back desk dimensions.
Custom Consoles' EditOne desks are designed for fast flat-pack delivery, allowing for quick and easy assembly on site. Front and rear corners of the desk and optional pedestal are curved, eliminating the possibility of collision with sharp protrusions. The worktop and monitor base also have hard-wearing and operator-friendly curved edges at front, sides and rear. EditOne desks incorporate three equipment pods with a collective nine units of rack space. These form the base of a monitor shelf. Full cable management is provided. Power distribution is optional. An auxiliary equipment pedestal with an additional 11 units of rack space and an integral worktop is also available.
Developed from Custom Consoles' MediaWall, the MediaPost monitor mounting system is constructed from extruded aluminium profiles, black or silver anodised, forming a 1,806 millimetre high rigid column. These are supported by a 700mm wide x 590mm front-to-back base fitted with rear wheels to allow easy positioning. The base and a middle-height equipment shelf are finished in a matte black powder coating. Loudspeaker mounts are available if required. An optional horizontal beam matches the finish of the vertical columns. MediaPost is height-adjustable to ensure sight lines are optimised when using tilting screen mounts. Cables can be fully concealed behind removable covers. Like MediaWall, MediaPost comes with a two-year guarantee against component failure during normal use.
Image: Custom Consoles Module-R Lite desks at the University of Sheffield.
www.customconsoles.co.uk
(JP)
Top Related Stories
Click here for the latest broadcast news stories.