Broadcast News
06/11/2015
Vizrt Releases Integrated Multiplatform Automation Workflow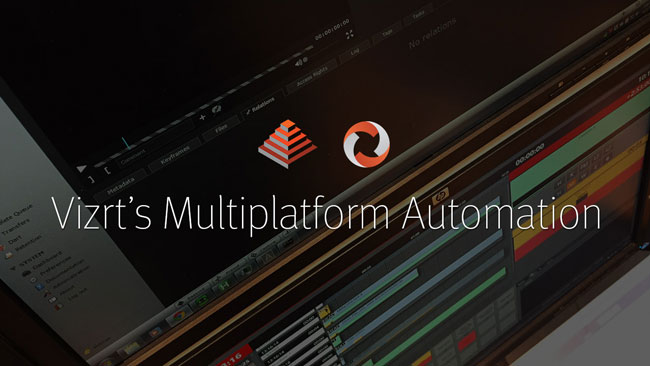 Vizrt has announced an integrated multiplatform automation workflow. The workflow, for broadcasters of any size, allows the production staff to focus on the live production, while the multiplatform content is generated automatically.
Stories played out from Vizrt's studio automation system, Viz Mosart, or the control room in a box solution, Viz Opus, are automatically prepared for online and mobile devices with custom graphics
It starts with the journalist
In the newsroom control system (NRCS), the journalist prepares a rundown with the script which contains video, graphics and commands for Vizrt's studio automation tools. For broadcasters who do not have a NRCS, the rundown can be created and managed in Vizrt's rundown creation tool, Showmaker. In the control room, the director loads the rundown in Vizrt's studio automation solutions. Multiple rundowns can be loaded so the studio automation systems never needs to be offline to change shows.
Live production and automatic archiving
Viz One, Vizrt's media asset management (MAM) system, ingests the clean feed of the live show from the studio automation system in real-time, for automatic archiving. Detailed information is captured in the MAM for each story including its name, text from the prompter and graphics such as lower thirds or fullscreens. The content can then be searched from Viz One's browser-based interface or in the NRCS.
Using the Meta-graphics workflow, graphics from the live show are also automatically added to clip's timeline in the asset management system. This non-burnt in workflow allows the graphics to be edited until the moment they are sent to air or online.
In the newsroom, the journalist can use the detailed search tools to reuse content for other shows and automatically change the concept of the Meta-graphics to match the graphics package of the new show.
Automatic VOD delivery
With Vizrt's transcoder solution users can automatically create multiple versions of the video and graphics, each suited for the specific output such as online video or multiple resolutions for different mobile phones. The graphics are adapted and optimised to each device with a custom design or branding. All the video content is ready to be viewed by the consumer on any platform with the best possible viewing experience, in real-time.
Petter Ole Jakobsen, CTO, Vizrt, said: "Any broadcaster using Vizrt's integrated automation, media asset management and transcoding solution can create a highly effective multiplatform workflow that automatically makes their live content available online in real-time. This works for any size Viz One installation, from a video server to an enterprise MAM."
www.vizrt.com
(JP)
Top Related Stories
Click here for the latest broadcast news stories.