Broadcast News
04/11/2015
LEADER To Demo At SATIS 2015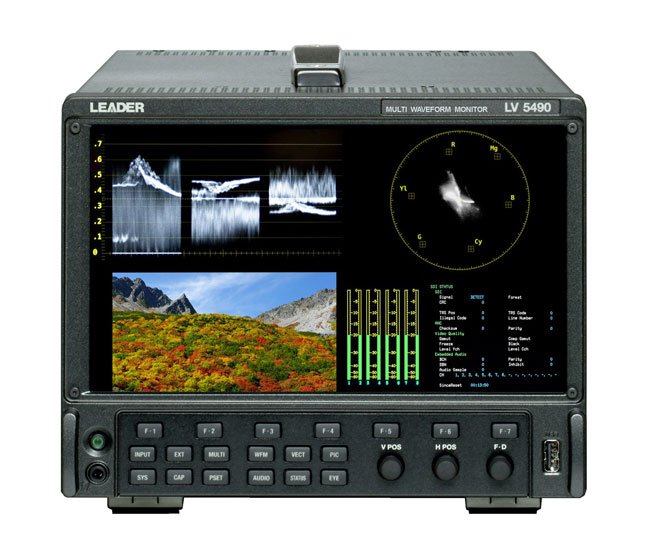 LEADER will be in Paris later this month as it demonstrates the latest version of its 4K-native LV 5490 multi-standard test instrument at SATIS.
Held at Porte de Versailles, the show attracts visitors from the French broadcast and film post-production industry. Exhibiting on stand D057, LEADER will be represented by European Regional Development Manager Kevin Salvidge, as well as colleagues from Paris-based distributor TRM.
An 1920 x 1080 9 inch LCD monitor integrated into the front panel allows simultaneous analysis of up to four video channels. Equipped with eight input connectors, the LV 5490 accepts up to two 4K signals simultaneously. In the 4K video format mode, 3G-SDI dual link or quad link is supported. Up to four 3G-SDI dual link 4K video inputs or up to two 3G-SDI quad link 4K video inputs can be selected for display, or two sets of HD-SDI dual link signals. In the SDI mode, up to four signals can be displayed simultaneously. The LV 5490 is also equipped to handle video signals via two-sample interleave as well as square division. Two-sample interleave is the approved standard for 4K UHD.
The LV 5490 can be operated in a wide selection of test and measurement roles. These include waveform, vector, picture monitoring, SDI signal status (which looks for cyclic-redundancy-check errors and embedded-audio errors), an event log, data dump and four-channel timing display. Waveform, vector and picture can be viewed simultaneously. Simultaneous display and overlay display of multiple SDI inputs is possible. Size and location of individual channel displays can be adjusted using a USB mouse. The LV5490 can also be controlled remotely using standard KVM tools.
Furthermore, the LEADER LV 5490 incorporates a selection of audio monitoring and analysis tools, which are available with the Digital Audio option. These include 4 x 4 channels of SDI audio de-embedding, lissajous display, surround-sound display and volumetric display. Up to 16 channels of de-embedded SDI audio can be displayed on screen and output as discrete AES3 feeds.
Additional features of the LV5490 include video frame capture, instrumentation screen capture, timecode display, ID display and a 4K pattern generator with embedded audio. Eye pattern display, including jitter waveform display and Dolby decoding, can be ordered as optional facilities along with a CIE 1931/1976 colour space chart which can display BT.709, DCI (P2) plus BT.2020 (the 4K standard's full ITU recommended colour space).
LV5490 operators can adjust the size of up to four displays on the screen to suit specific tasks. This allows easy magnification and inspection of detail instead of being limited to fixed size quadrants. The LV5490 also comes with a 1920 x 1080 HD DVI and HD-SDI rasterized output for display on a larger monitor. Fully portable, the LV 5490 has a footprint of just 223 mm wide by 360 mm deep and a height of 189 mm. The instrument weighs only 4.72 kg. A rack mounting adapter is available.
Also being promoted at SATIS will be the LV 5480 HD/SD waveform monitor. It offers the features of the LV 5490 apart from 4K UHD capability. Designed for use in existing HD and SD workflows, the LV 5480 can be upgraded to a full LV 5490 whenever 4K capability is required.
"The LV 5490 is a highly versatile waveform monitor for use by video and digital film cameramen, post-production creatives and broadcast engineers," Kevin Salvidge comments. "It supports every video production and transmission resolution currently in common use, from 525 and 625 standard definition up to 3840 x 2160 and 4096 x 2160 4K ultra high definition. The instrument's 4K capability is particularly useful to people working with latest generation cameras, whether for digital cinematography or high-end broadcast applications.
"The integral CINELITE feature allows luminance levels to be measured at up to three different points in a scene. Also included is CINEZONE which employs false colours to indicate luminance levels in a scene and is particularly useful when lining up green-screen chroma-key virtual sets."
Image: LEADER LV 5490 4K/HD/SD waveform monitor.
www.leaderamerica.com
(JP/LM)
Top Related Stories
Click here for the latest broadcast news stories.