Broadcast News
29/09/2015
ANNA-LISA Makes MADI Users Smile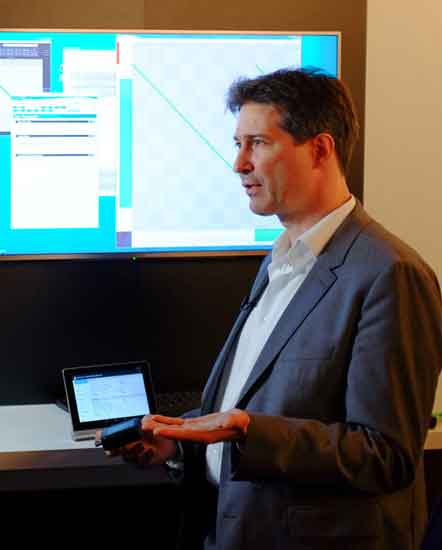 German manufacturer and MADI specialist DirectOut Technologies brought smiles to many visitors' faces at IBC recently with the launch of analysing software for its MADI analyser and signal generator ANNA-LISA.
ANNA-LISA is a handheld device with a simple traffic light style LED Go/NoGo indication. It is equipped with two MADI I/Os; a coaxial BNC port and an SFP cage for single mode, multimode or BNC SFP transceivers. It is compatible with all MADI formats and checks for AES10 conformity, sample rate accuracy, format, signal amplitude, jitter and eye pattern. The onboard generator has three presets for different test signals.
The newly launched analysing software, available as an app for Android devices, provides substantially more information than has previously been available on the ANNA-LISA alone.
Functions the software provides include configuration of the MADI outputs with electrical level adjustment, detailed measurements of the MADI inputs, logging of status/signal changes, a BitScope and a fibre module readout. There's also a 64 channel audio meter display for channel based routing between the two MADI ports.
DirectOut Managing Director Stephan Flock, pictured at IBC, remarked "I'm delighted with the extremely positive feedback we are getting for the ANNA-LISA remote app. The comprehensive analysis allows the ANNA-LISA to be useful in many applications and we are already receiving reports of how the software has reduced time and effort tracking down some previously intractable MADI issues."
The app for iOS and Windows users will be available later in the year.
ANNA-LISA is available from UK distributor Aspen Media.
www.aspen-madi.com/annalisa
www.directout.eu
Top Related Stories
Click here for the latest broadcast news stories.