Broadcast News
29/09/2015
TVN Power Ivory Coast's Transition to DTT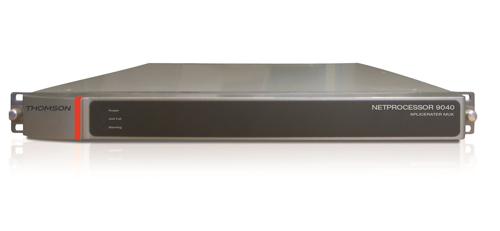 Thomson Video Networks today announced that the company's premium HD/SD encoding and video processing solutions are driving the transition to digital terrestrial television (DTT) in the Republic of Ivory Coast. French transmitter manufacturer Thomson Broadcast, part of the Arelis Group, has deployed the Thomson Video Networks solutions as the foundation for a pilot DTT video headend for CNM-TNT, the national Ivory Coast committee heading the transition.
Under the terms of an agreement with the ITU, Ivory Coast must make the switch from analog to digital television and put a DVB-T2 platform on air by June 2015 for UHF frequencies and June 2020 for VHF frequencies. The headend pilot, a joint project of Thomson Broadcast and French DTT technology providers Sagemcom and HTTV, is a major step toward completing the changeover.
The headend from Thomson Video Networks consists of ViBE EM4000 encoders, NetProcessor 9030/40 multiplexers/video processors with DVB-T2 gateway, and an Amethyst redundancy switch. Installed in Abidjan, Ivory Coast's largest city, the Thomson Video Networks solutions will enable the government to test and evaluate the DTT service before rolling it out to viewers across the country.
"For this transition to be a success, we need to be able to give our viewers perfect, premium satellite-quality video; advanced services; and numerous and appealing TV channels," said Pascal Veillat, CEO of Thomson Broadcast and Arelis. "Thanks to our extensive expertise in the deployment of complete systems, including headend transmitters, and the equipment from Thomson Video Networks, we know we can achieve these goals. Thomson Video Networks has provided an extremely powerful, compact, and unique DVB-T2 headend solution that provides premium-quality video compression at a low bit rate."
"Ivory Coast is among the first countries in West Africa to start the digital terrestrial migration, and this pilot includes advanced services that go beyond basic DTT. That makes our solution ideal for this project," said Christophe Delahousse, president, Thomson Video Networks.
"It's no accident that we are number one in DVB-T2 headend deployments worldwide — it's because we're able to provide the industry's most advanced digital terrestrial technologies and truly unique features, such as content regionalization and readiness for HEVC. Thomson Video Networks is very focused on DTT migration in Africa, and we believe the deployment in Ivory Coast will be the first of many great successes in the region."
thomson-networks.com
Top Related Stories
Click here for the latest broadcast news stories.