Broadcast News
26/02/2002
Skillset boosted by involvement of industry's top names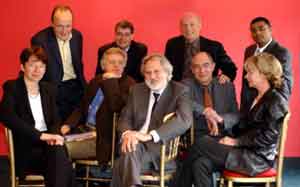 A leading group of industry professionals have pledged their support to Skillset at the organisation's first patrons' meeting on February 13.
The patrons met at London's Groucho Club to discuss how they can best take up the mantle thrown out to them by government when Skillset are awarded their new status as a Sector Skills Council.
Pictured front row are Dawn Airey, Chief Executive of Channel 5; Lord Puttnam CBE, Chair of Skillset's Patrons; Denise O'Donoghue Managing Director of Hat Trick Productions; and second row: Michael Grade CBE, Chairman of Pinewood Studios; Roger Laughton CBE, Chair of the Audio Visual Industries Training Group and Head of Bournemouth Media School; Peter Bazalgette, Creative Director of Endemol Entertainment UK; Stewart Till CBE, Deputy Chair of the Film Council; Greg Dyke, Director-General of the BBC; and Lord Alli, Executive Director of Shine Ltd. Two of Skillset's patrons were unable to attend the meeting – Lord Bragg, who was filming, and Trevor Phillips, who had a prior engagement.
Skillset were selected by the government in December to be one of only five 'trailblazer' Sector Skills Councils – new independent employer-led bodies that will receive increased support from government.
Following the meeting, Lord Puttnam, Chair of Skillset's Patrons, said: "I hope that Skillset's new status as a Sector Skills Council will help ensure that industry needs are met in order that we remain internationally competitive at every level".
Bob Nelson, Chair of Skillset and Controller, Development and Training at the BBC, added: "As a Sector Skills Council, Skillset will have a strengthened voice with which to take forward the work we have been doing over the past nine years. Now, even more than before, Skillset will be in a real position to influence policy and represent the interests of SMEs, micro-businesses and major employers within the Broadcast, Film and Video industries across a whole range of issues."
Skillset were established in 1993 and are designed to encourage the delivery of informed training provision so that the British broadcast, film, video and interactive media industry's technical, creative and economic achievements are maintained and improved.
Skillset receives funding from the industry, DfES, DCMS, DTI, and the European Social Fund.
Skillset,
www.skillset.org
(GMcG)
Top Related Stories
Click here for the latest broadcast news stories.