Broadcast News
28/02/2002
Branagh accepts role as NIFC Honorary President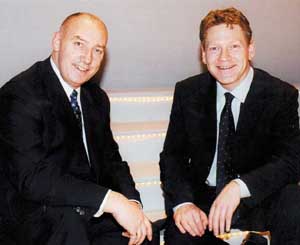 Colin Anderson OBE, Chairman of the Northern Ireland Film Commission, has announced the appointment of Kenneth Branagh as Honorary President of the Northern Ireland Film Commission (NIFC).
The Northern Ireland actor said he was delighted to have taken on this special responsibility amongst his other demanding work commitments.
His recent successes include the West End production, 'The Play What I Wrote', which he directed to critical acclaim. Branagh is also playing Professor Gilderoy Lockhart in the second Harry Potter movie 'Harry Potter And The Chamber Of Secrets', due for release November 2002. He also recently received wide critical acclaim for his leading roles in the television dramas 'Conspiracy', as General Reinhard Heydrich SS, for which he won an Emmy and as the flawed hero of the Antartic, 'Shackleton'.
Branagh has accepted the role of Honorary President at a very exciting time for the Northern Ireland Film and Television industry.
He said: "I relish the opportunity to make a contribution to the development of the film and television industry in Northern Ireland and to help promote Northern Ireland on the international stage."
Anderson added: "We are honoured to have secured Northern Ireland's own movie star to act as our ambassador at the highest levels in the international world of film and television. Kenneth has a special place in the hearts of Northern Ireland people who still talk about his earlier screen role in BBC Northern Ireland's 'The Billy Plays' (1982) by Graham Reid. Kenneth is now one of the world's leading actors and I am absolutely delighted that he is going to be working with us to build the industry here.
"The Northern Ireland Film Commission is preparing for a major expansion of our remit and activity during 2002. Our work in film, television and new media is at the heart of the development of the creative industries in Northern Ireland. There is a new dynamism in this industry sector. The opportunity to embrace new digital media and to expand the education curriculum to involve us in the most powerful industry in the world is a most exciting prospect."
NIFC,
www.nifc.co.uk
(GB)
Top Related Stories
Click here for the latest broadcast news stories.