Broadcast News
04/09/2015
GatesAir Connect Event Confirmed For IBC2015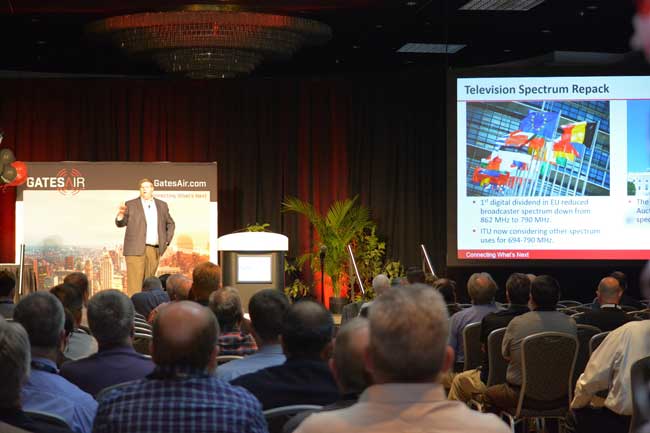 GatesAir is to hold its 2015 GatesAir Connect customer networking event in Amsterdam next month at IBC2015.
The event will be held from 4pm to 8pm on Saturday 12 September, and will replicate the interactive approach introduced at the first GatesAir Connect event at the 2015 NAB Show in April. It will allow customers to engage with company technologists and the greater service organisation, as well as hearing brief updates on trends shaping the present and future directions of over-the-air broadcasting.
GatesAir Connect enables attendees to go beyond their primary sales representatives, and communicate with a larger group of company representatives and industry peers away from the exhibit floor noise.
The agenda opens with a keynote from GatesAir CEO Phil Argyris, focusing on the business challenges of the international over-the-air broadcaster. Planned technology topics include advances in transmitter efficiency, leveraging IP connectivity in the RF plant, and future broadcast opportunities across ATSC 3.0, LTE broadcasting and other emerging over-the-air delivery platforms. The event will also include special insights on streamlining service and maintenance across transmitter networks to minimize long-term equipment and labor costs.
"GatesAir Connect at NAB steered the focus away from lengthy, standard-fare dry lectures and toward a more meaningful interaction with industry thought leaders, both inside and outside GatesAir," said Rich Redmond, chief product officer, GatesAir. "We remain focused on connecting people and technology through an energizing, problem-solving approach to the challenges TV and radio broadcasters and network operators face today."
The event will be held at the Amsterdam RAI Exhibition and Convention Center, Meeting Room G106B. Interested parties can e-mail
Catherine.Poulsen@gatesair.com
or visit the registration page
here
. An 'Ask The Expert' cocktail reception will take place for the final two hours of the event.
www.gatesair.com
(JP)
Top Related Stories
Click here for the latest broadcast news stories.