Broadcast News
23/07/2015
Creating The Perfect Aerial Shoot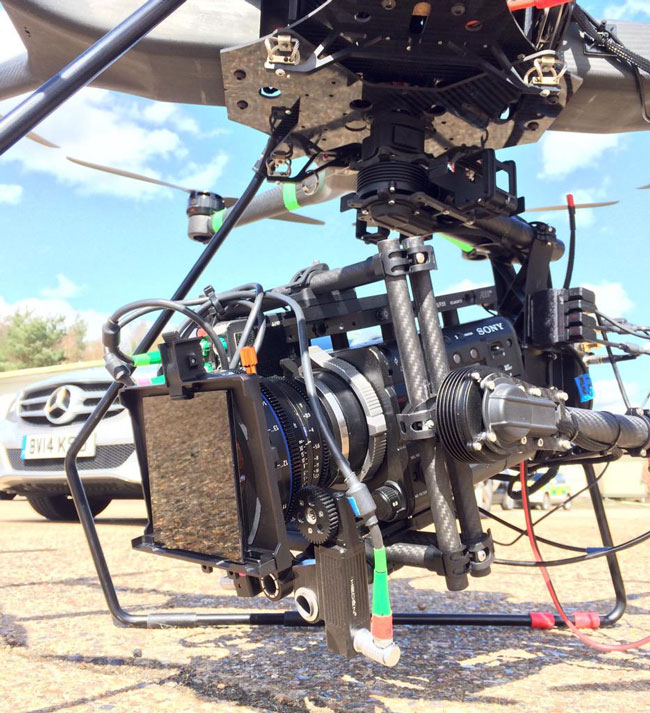 The Lens Foundry is a unique Camera Facilities Company, providing Aerial, Stabilised Camera Mounts, Tracking Vehicles, Motion Control & VFX solutions.
Our team has over 18 years experience working on Feature Films, Television Dramas, Commercials, Promos & Documentaries. We have provided facilities recently to The Huntsman, London Has Fallen, Patient Zero, Poldark, Downton Abbey, The C Word and Mercedes Petronas F1 to name a few.
As an expanding company, we are always looking for new and innovative technologies to strengthen our services. Just over four years ago we ventured into aerial filming using remotely piloted aircraft (or 'Drones'). At first, people seemed wary of this new camera perspective, but in the last two years more and more productions and Cinematographers insist on shooting this way.
So how do you choose the right aerial company? Show reels may look good but they don't tell the full story. The first thing you'll need to know; is the operator certified and insured to pilot an Unmanned Aerial Vehicle (UAV)? Do they have a CAA issued Permission For Aerial Work (PFAW)? Do they have any non-standard exemptions, such as Night Flying and how experienced is the aerial camera operator? What level of Public Liability Insurance do they have? Due to our feature film work, The Lens Foundry has £10m PLI.
We always ask clients, "What camera and lens are you looking to shoot with?"
This will determine the size of the UAV/camera package to offer, as many other operators only have limited options. The Lens Foundry operates a fleet of eight aircraft, allowing us to always carry a complete back-up system. Most of our work requires one of our heavy lift 'Cine-8' aircraft for cameras such as the new Alexa Mini or Red Dragon, Sony F55, Black Magic 4K; but we also have aircraft suitable for smaller cameras including the Panasonic GH4 or Blackmagic Pocket Camera.
Additionally, you might want further equipment such as a Wireless Lens Control System, Lightweight Matte Box or broadcast quality wireless HD Links to complete the camera/drone package.
Once you have identified the aircraft specification, the operator will need to know the location of the shoot as this may impact on their ability to fly within the CAA's rules and the date of the shoot to check availability. Whilst most parts of the UK are okay to fly, there are some locations that have further restrictions in place, such as "congested areas" or near airports. Also, the topography should be considered. Is the location on top of a hill or mountain where it could be extremely windy?
Another consideration is permission from the landowner; it is essential that this has been granted to allow the aircraft to take off and land. However, if the property falls within an air traffic control area, then we will need to secure additional permission to fly within this zone. Try to give as much notice as possible, especially if additional permissions are required. We advise companies to plan ahead and give at least three weeks' notice, although not essential, to aid with planning from our end, and even more so if wishing to shoot overseas. Here our advice is provide at least 4-6 weeks notice so that the operator can apply to the relevant Civil Aviation Authority to film in another country (not all countries allow UAV operations).
One of the biggest challenges is the weather. As a general rule the weather needs to be dry and winds speeds within the specification of the aircraft. An experienced operator will always have good understanding of meteorology and will be able to provide weather updates leading up to the day of the shoot, giving production an informed choice to make decisions on such days. Flying in windy conditions is challenging, risky and reduces flying time, so its essential the Pilot is experienced.
To save any disappointment familiarise yourself with the rules. Operators have to work within the law. The rules tell us how high and how far we can fly, where we can't fly and the limitations flying in congested areas. Therefore speaking to The Lens Foundry at the beginning of any planned aerial shooting will establish early on what is achievable.
www.thelensfoundry.com
More Aerial Filming Stories