Broadcast News
03/07/2015
Gearhouse Broadcast For F1 Coverage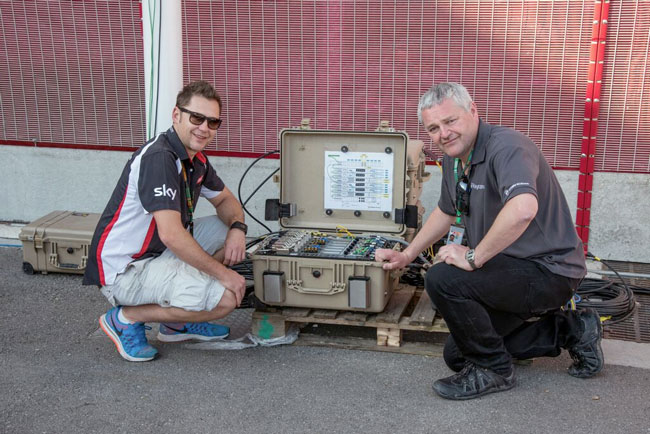 Gearhouse Broadcast has been working with Sky Sports on its Formula 1 coverage since 2012.
During this time, Gearhouse has been using Wisycom wireless microphone/IFB receivers, belt-packs and transmitters supplied by Wisycom's UK Official Partner Raycom, to deliver audio coverage for viewers and the crew lap after lap. This past year, Wisycom worked closely with Raycom and Gearhouse Broadcast to create a custom design of the MFL Wideband Optical Link – the MFL Fiberbox – which was employed at the Spanish Grand Prix in Barcelona.
"When you are in charge of coverage of a fast-pace racing event such as this one, clear communication between crew and talent is important, as well as quality audio so that viewers don't miss a minute of the action," says Ryan Campbell, Project Manager of Formula 1 for Gearhouse Broadcast. "Since Wisycom operates in a wide frequency band, it allows all of our wireless handheld microphones, IFBs and other devices to navigate around interference anywhere in the world. To further help keep our IFB channels clear, when this equipment is used with our custom ruggedized MFL Wideband Optical link, we are able to link all our IFB channels over fiber, keeping them in phase, which allows for 'isofrequency' coverage of a wide area with multiple transmission sites."
The MFL Fiberbox BX1-4U outdoor RF-Over-Fiber solution brings the power and functionality of Wisycom's MFL Wideband Optical Link into a new, heavy-duty casing to withstand the rigours of on-location production. For the Barcelona event, six MFL Fiberbox cases were placed around the track to help extend the coverage area of the three pods containing a combined total of 13 MRK960 receivers, also in use at the track. The pocket MPR30IEM/IFB receivers, with their true-diversity receivers, lock on to eight channels of IFB transmitting from the three sites.
Wisycom's MTH400 handheld microphones are used by presenters in the field, in addition to wireless belt-packs with 1 Watt amplifiers for links back to the pods as well as for talent lavalier mics. The MTH400 microphones' proprietary Push-to-Talk (PTT) function is an asset to the Gearhouse crew for the Spanish Grand Prix and other racing events. The feature allows operators to switch output to the main or intercom line and speak off-line with the technical team. This helps to ensure talent is in the right place, properly communicating with the crew, while keeping that communication off-air. For the broadcast, the mics' audio is then picked up by an audio mixer employing MCR42 UHF Dual Channel Miniature Camera Receiver. Those are then mixed down from six channels, down to two channels of audio and then linked to the MRK960 receivers where they are sent out to air.
www.wisycom.com
(JP)
Top Related Stories
Click here for the latest broadcast news stories.