Broadcast News
11/05/2015
Revolabs Adds To UC Portfolio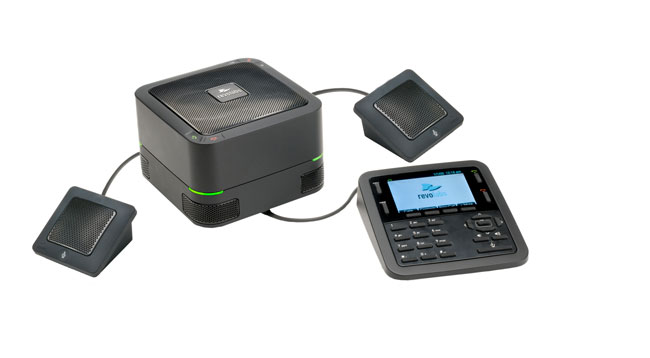 Revolabs has added to its UC portfolio, ahead of InfoComm 2015 next month.
Among the products featuring, include the
FLX™ UC 1500 IP & USB Conference Phone With Extension Microphones.
For the first time in North America, Revolabs will unveil its new FLX UC 1500 IP & USB conference phone at InfoComm 2015. As the newest addition to the company's UC portfolio, this USB solution lets users add two directional microphones and can bridge calls between VoIP and UC desktop applications. Ideal for office spaces using VoIP or PC-based conferencing, FLX UC 1500 IP conference phone eliminates separate conferencing units for IP communications and USB requirements such as softphone calls, webinars, and other computer-based collaboration. As a single inclusive solution, the FLX UC 1500 increases convenience for IT managers and meeting participants by letting users join any type of – solving problems of switching equipment or managing multiple solutions per room in order to accommodate UC desktop applications or PBX-based systems.
Another product for the show is the
Expanded and Improved Wired Microphone Line.
The company will be introducing wired goosenecks microphones to its current line of wired microphones. Available in six and 12 inches, the goosenecks come in the same – black, white, and brushed nickel – as the company's directional and omnidirectional wired microphones. Additionally, the wired microphones now include mute functionality and status LEDs which can be managed locally or through a connected device via DSP. With Revolabs, it is now possible to have the same user interface in rooms with wireless microphones and wired microphones while keeping the look and functionality of the microphones the same. Ideal for conference rooms and boardrooms, the microphones allow users to connect instantly to today's wide range of collaboration tools – including audio systems and unified communication solutions – via any universal microphone input connection.
At InfoComm 2015, Revolabs will release version 1.1.5 of the firmware for its
Executive Elite™ Four- and Eight-Channel Wireless Microphone System.
The upgrade, which will be available as a download from the Revolabs webpage beginning in June, includes new features such as selectable LED behavior to indicate microphone status, fast connect AVB, and over the air (OTA) synchronisation that eliminates the need for systems to be physically connected. This is especially helpful in installations with limited wiring accessibility such as historic buildings. As the only wireless microphones available with native AVB support, the Executive Elite's fast connect feature will automatically re-establish audio streams between different devices should a network or system failure occur.
Revolabs will also demonstrate its
revoCloud
web-based management solution that offers system integrators and large enterprises real-time remote monitoring and managing capabilities for Revolabs Executive Elite installations across several sites or a global enterprise. This secure service provides information on the status of installed sites, servers, and microphones, and allows administrators to easily manage large scale or distributed installations in a customized, intuitive, user-friendly interface. revoCloud also enables integrators the ability to offer managed services to their customers.
"InfoComm is always a dynamic and educational show that brings together AV and IT professionals from around the world to share their knowledge while gaining valuable insight into emerging industry technologies," says JP Carney, CEO at Revolabs. "At this year's show, Revolabs is proud to showcase our complete line of FLX™ UC solutions, which provides users with a series of standalone devices made to satisfy virtual meeting requirements in offices, huddle rooms, and conference rooms. Equally exciting is the system upgrade to our Executive Elite line of wireless microphone systems, making our strongest product even more versatile for integrators and end users. Additionally, we are expanding our wired microphone offering with the introduction of wired goosenecks."
Image: FLX™ UC 1500 IP & USB Conference Phone With Extension Microphones.
www.revolabs.com
(JP)
Top Related Stories
Click here for the latest broadcast news stories.