Broadcast News
13/03/2015
Back And Better Than Ever: BVE 2015­ - Part 1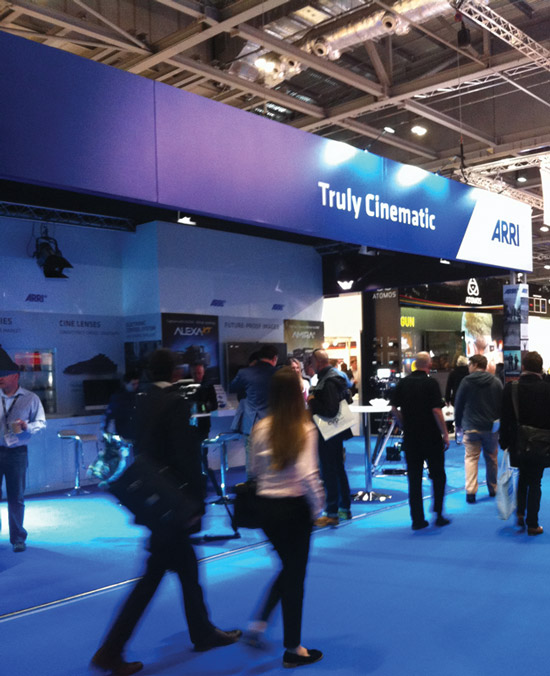 From exhibitors to visitors, journalists to PR reps, industry experts to students, all seemed to be in agreement; this was the busiest, most packed BVE show in memory. It seems the 'Earl's Court hangover', as one attendee I spoke to put it, is finally over and, while some bemoaned their 90-minute journey across London, it didn't seem to prevent the crowds descending upon the ExCeL for a show that certainly delivered where it mattered.
ARRI
pulled out all the stops this year, the ALEXA Mini becoming one of the most talked-about releases of the show. ARRI's stand was swamped by late afternoon on the first day, as a prototype of the new camera attracted personnel from across the industry looking to catch a glimpse.
The new addition to the ALEXA range features a 4:3 sensor and frame rates of 0.75-200 fps. It records ProRes or uncompressed ARRIRAW either in-camera to CFast 2.0 cards or to an external Codex recorder that can record image streams from up to four ALEXA Minis simultaneously.
As you would expect, and like the AMIRA, the Mini records 4K UHD ProRes images, facilitating real-time 4K UHD output and simple pipelines for high-resolution deliverables. The ALEV III sensor offers high image quality on colourimetry, skin tones and HDR, whether HD, 2K, 4K UHD or one of the native resolution ­outputs like uncompressed ARRIRAW 2.8K or ProRes 3.2K.
Shipping is due to begin May 2015, with orders being taken from March.
4K news continued on the
JVC Pro
stand with the 4KCAM camcorder product line, comprising three new handheld camcorders and a remote head camera system.
The GY-HM200E is a 4K Ultra HD camcorder with HD streaming, while the compact GY-HM170E delivers the same 4K Ultra HD quality in a palm-sized offering. The GY-LS300CHE 2K/4K camcorder features JVC's 4K Super 35mm CMOS sensor and Micro Four Thirds (MFT) lens mount. Finishing off the 4K news on the stand was the GW-SP100E, a 2K/4K remote head camera system featuring camera head, recording/playback device with HD LCD monitor and a control panel.
AJA
were not to be outdone on the 4K front, following the announcement of shipping for their CION camera towards the end of 2014. At the beginning of February the company released v1.1, increasing the EI values to EI 320, EI 500, EI 800 and EI 1000, as well as offering improved highlight handling.
The camera shoots at 4K/UltraHD and 2K/HD resolutions and offers in-camera recording directly to the Apple ProRes family of codecs, including 12-bit ProRes 444, enabling capture to AJA Pak SSD media at up to 4K/60p. It can also output AJA Raw at up to 4K 120fps via 4 x 3G-SDI or up to 4K 30fps via Thunderbolt. The v1.1 firmware is field-upgradeable and uploaded via the built-in web UI with a standard web-browser.
The company also showcased v12.1 software for Mac and Windows, providing a single unified device driver and plug-in installer per platform for all currently shipping AJA edit and streaming hardware. Supported are KONA 4, KONA 3G, KONA LHi, KONA LHe Plus, Io 4K, Io XT, Io Express and T-TAP™. The AJA v12.1 driver is compatible with Windows 7 or Windows 8.1 (64-bit) and Mac OSX 10.10 (Yosemite) and OSX 10.9.5 (Mavericks). New features add support for 4K and UltraHD resolution capture with the Open I/O Plug-in for Avid Media Composer 8.3, along with a new Wirecast capture Plug-in for support for Telestream Wirecast version 5.x and 6.x.
Sony
showed how its FS700 captured new documentary 'Journey to Le Mans' in 4K using two NEX-FS700s. The film shows British racing team Jota Sport preparing for the famous race. Much of the production was also shot in 2K at 200fps, utilising the FS700's slow-mo capability.
Elsewhere on the stand, the BVM-X300 4K monitor made its European debut. The 30-inch 4K OLED Monitor fits into Sony's XDCAM and 4K workflows and is aimed at content producers looking to create full HD or UHD workflows.
The company also announced new firmware upgrades for PXW-X70 and PXW-X200, including a paid 4K licence allowing X70 users to shoot in 4K. Free upgrades included streaming and proxy recording. The X200's upgrades will also enable streaming, as well as simultaneous recording.
Clear-Com
presented its FreeSpeak II wireless intercom system, delivering impressive roaming capabilities which this journalist experienced firsthand. Robust and tough, the device is ergonomic and, seemingly, incredibly reliable. The solution operates in multiple license-free frequency bands: 1.897-1.933GHz. It can operate as a standalone system, with up to 20 full-duplex wireless beltpacks connected to one base station. Using a Matrix frame (via an E-Que-HX card), up to 50 user connections can be achieved. Active Antennas enable beltpack-to-base station distance range up to 3,200ft (1,000m). It features a four-wire and partyline intercom connectivity, program feed input, stage announce, IFB, up to five wireless partyline groups and partyline call alert functionality.
Clear-Com also showed the LQ Series, a new family of ICON devices for linking intercom and audio systems over IP networks.
Vizrt
is one of those companies that always seems to have something new to shout about at the major shows. The company showcased its Viz Opus compact control room system. Viz Opus provides a newscast automation system, real-time graphics and video playout – all in a single solution.
Viz Multiplay is a new system that enables broadcasters to control studio screens and video walls from a single interface. It features multiple channel control, customisable interface, MOS support, SD/HD/4K SDI & IP out, live video control, multiplatform control and touch-based interface.
The company also showcased Viz Libero, its sports analysis system. Viz Libero provides a tool set that allows users to combine 3D replays with telestration and interactivity to provide viewers with vibrant and eye-catching game insights.
ChyronHego
highlighted its graphics creation, workflow and playout solutions. Lyric PRO is a solution providing graphics creation and playout, designed to shorten cycle time to air. It features hierarchical grouping and key-frame timeline attributes, along with direct integration to industry-standard applications such as Adobe Creative Suite and 3D solutions from Autodesk.
The latest updates to 8.8 include new scene and application parameters for data visualisation; Advance Data Object, offering external data sources that enable access to any data; a new Data Processor tool for evaluating and modifying data before it is rendered graphically; a new Connection Manager allowing control over any external device through network or serial communications and a new Intelligent Interface Manager that allows unlimited serial or network connections in a multitude of encodings.
NewTek
showed its new video calling production system TalkShow VS-100, aimed at TV studios and live video producers to facilitate the management of all aspects of a live Skype video call in the control room. Introduced at IBC2014, TalkShow enables Skype users to be integrated as guest speakers into any live production.
The article is also available to read in
BFV online
.
(IT/CD)
Top Related Stories
Click here for the latest broadcast news stories.