Broadcast News
03/03/2015
CABSAT To Roll-Out Extended Schedule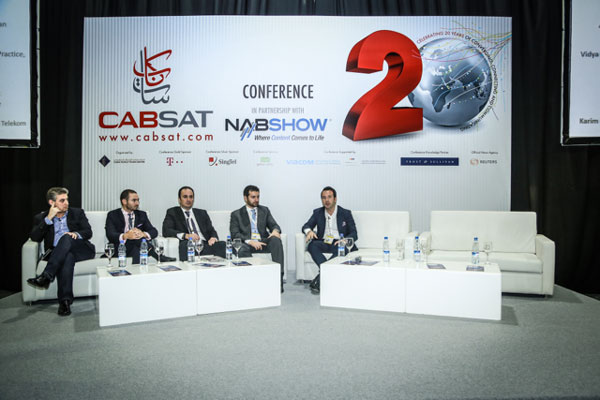 The 21st edition of CABSAT will roll-out an expanded schedule of sector-specific conferences, training schemes and seminars as part of its mandate to empower regional companies.
CABSAT 2015 will run from 10-12 March at the Dubai World Trade Centre (DWTC).
CABSAT 2015 will feature a series of world-class knowledge exchange initiatives including the second annual CABSAT & NAB Show Collaborative Conference, the inaugural Middle East Post-Production Training Conference, the GVF Satellite Hub Summit and the Content Delivery Seminar.
The CABSAT & NAB Show Collaborative Conference will see more than 40 global media industry thought leaders deliver compelling real-life case studies on disruptive technologies, the transition to digital broadcasting and monetising multi-platform services.
In total, 16 sessions will feature renowned voices from regional and global media houses – both visionary independents and mega corporations - and blue-chip companies. The roll-call includes Al Jazeera, AVID, the UK's Channel 4, Coca Cola Co., Comedy Central, The Creative Grid, Ericsson Media Room, FOX International, ESPN, Huffington Post, icflix, ITV UK, MBC, MTV, NBA, Netflix, Nickelodeon, OSN, Paramount, Piksel, Rotana, Scribble Live, Selevision, Unilever, VIACOM, Yahlive and Zee Entertainment.
Under a primary theme of 'Connecting Live Content Opportunities', the CABSAT & NAB Show Collaborative Conference will be opened by Corey Bridges - one of the original directors who launched Netflix in the USA, the founder of Multiverse, a member of the Producers Guild of America, and a former Senior Vice President of Marketing for Hollywood visionary James Cameron's firm CAMERON | PACE Group (CPG).
Bridges' address will highlight his experiences building disruptive and innovative content companies such as Netflix and James Cameron's 3D technology company, as well as exploring how the business and production of multi-platform content is moving beyond delivering interactive content and towards fully-immersive, trans-media experiences.  
Other dedicated industry sessions include 'The Future of Sports Presentation', 'Content Production – The Producers' Gallery', 'The Future of Broadcast', 'Hyper-Personalisation with Piksel', 'Social TV Audience Measurement Monetisation with Pay Wizard', and a seven-person panel discussing 'Automation, Delivery, Security and Analytics – the Four Pillars of Next-Generation Connected TV', amongst others.
www.cabsat.com
(CD)
Top Related Stories
Click here for the latest broadcast news stories.