Broadcast News
24/02/2015
Sky News UK Installs Blackmagic's ATEM 2 M/E Production Studio 4K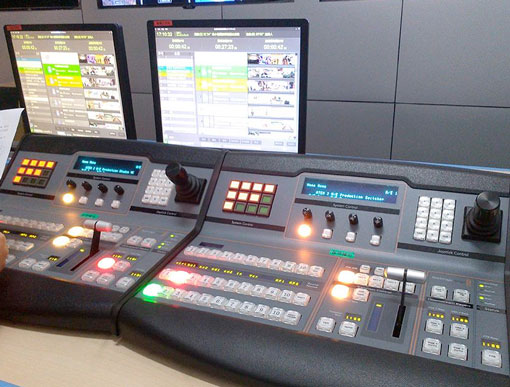 Sky News UK has implemented Blackmagic's ATEM 2 M/E Production Studio 4K with an ATEM 2 M/E Broadcast Panel and Smart Videohub as part of an overhaul to the news organization's broadcast systems in 'Studio D'.
A small team of multi-skilled staff use the studio to create three minute news summary, which are then published across Sky News' digital outlets. The studio also has the layout and facilities available so that a bigger gallery set up, with producer, director, vision mixer and sound supervisor, all managed by a technical director, can be deployed on more complicated projects if the need arises.
Creating those news summaries had been very time consuming revealed veteran anchorman Martin Stanford. "This used to be a long edit suite job, marrying presenter video with news footage, adding information straps and so on. With the new studio workflow we can now create a bulletin in real time, mark the in and out, and then post to all digital devices. That has reduced the publication time lag from over an hour to a matter of minutes.
"Every source, whether it's station wide or local to the studio, goes through a Smart Videohub router to an assigned channel on the ATEM 2 M/E Production Studio 4K switcher. That includes three of our existing HD studio cameras, which have been repositioned onto the studio floor, as well as all of the monitoring in the gallery and on the studio floor, ensuring maximum flexibility.
"Four pre existing playout channels from the Sky News media server are connected to the switcher, as are three outside source channels, which can be populated by almost any source from the central Sky router, and our local feeds from a Mac computer and Apple TV unit, allowing us to connect devices via airplay."
www.blackmagicdesign.com
(CD/JP)
Top Related Stories
Click here for the latest broadcast news stories.