Broadcast News
18/02/2015
PlayBox Expands AirBox With Dolby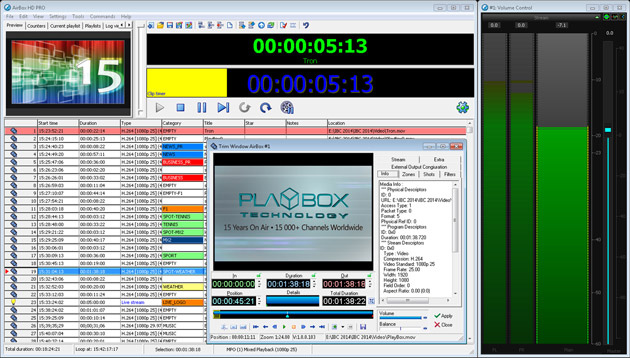 PlayBox Technology has expanded the audio capabilities of its AirBox broadcast playout solution, following the addition of Dolby Digital Plus and Dolby-E encoding and decoding.
Dolby E provides the ability to distribute up to eight channels of audio, plus metadata and timecode, via the existing stereo channels (AES/EBU) available on conventional digital video tapes, video servers, communication links, switchers, and routers.
The Dolby E signal never reaches the home viewer. Rather, it is decoded back to baseband audio just prior to the transmitter and then re-encoded into the final audio format, such as Dolby Digital or Dolby Digital Plus.
It is ideal for the production and broadcast of live events because it facilitates the contribution of multichannel audio from the event back to the broadcast centre. A single Dolby E stream can carry surround-sound plus two additional tracks, which can be used for a stereo mix or a foreign language version, or as specialised tracks such as those for the visually impaired.
Audio can be repeatedly encoded and decoded throughout the broadcast chain without discernible loss of audio quality.
"Dolby Digital has been an integral feature of AirBox for many years," comments Don Ash, PlayBox Technology Managing Partner and Director, Sales. "Large screen television displays, typically 55 inches and above, are becoming increasingly popular among home television viewers which in turn is creating strong interest in high-quality television sound. This demand will be further accelerated by the rapidly falling price of 4K home television receivers with internal upscalers.
"AirBox with SurCode for Dolby Digital Plus encoding and decoding enables broadcasters and playout facilities to deliver cinema-style 5.1-channel surround sound, while reliably and easily maintaining high quality at more efficient bit rates without the expense or rack-room clutter involved when using external hardware codecs. The encoded stream is fully compatible with all Dolby Digital decoders."
www.playbox.tv
(IT/JP)
Top Related Stories
Click here for the latest broadcast news stories.