Broadcast News
06/02/2015
Cache Media Shows Bon 5.5" Full HD Field Monitor At BSC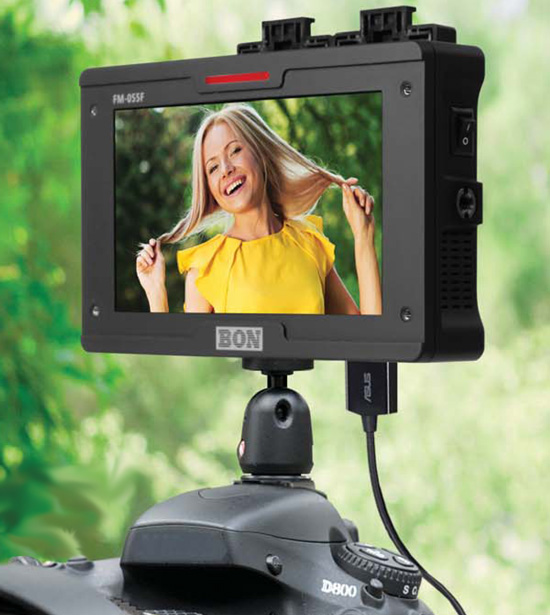 Bon's new 5.5" Full HD field monitor was shown by distributor Cache Media for the first time at the BSC Show at the end of January.
The Bon FM-055F features a 5.5" 1920x1080 LED back lit LCD panel, a selectable Focus Assist Area, Auto Flip and an H/V Level Meter.
It has four mount holes on the top, bottom, left and right sides giving it multiple attachment options, with all buttons and controls located on the top of the monitor and SDI and HDMI connectors on the bottom.
Cache Media MD Stuart Cameron said: "Everyone who was shown the capabilities of this new monitor at the BSC Show was literally amazed at how comprehensive it is. It provides so many of the required features that have been missing until now that it is certain to be a best seller."
"With so many class leading features, the lightweight FM-055F from Bon Electronics is sure to be the first choice 5.5" on-camera monitor for DSLR and ENG camera users, providing HDMI to SDI Conversion, SDI to HDMI Conversion, DSLR Scale, Focus Peaking, Selectable Loop-Through or Conversion Out Markers, De-embedded 8-16 channel Audio Level Meter, Horizontal/Vertical Screen Flipping, and Range Error Check," a statement from Cache said.
The FM-055F boats an Anamorphic mode for variable aspect ratios, is compatible with Canon's Mark III/60D and Nikon's D800 cameras, has H/V Level Meters, DV Battery Check, Auto Colour Temperature Adjustment and HDMI UV Swap.
www.bon.co.kr
www.cache-media.com
(IT/JP)
Top Related Stories
Click here for the latest broadcast news stories.