Broadcast News
27/01/2015
Digigram Takes Part In AES Event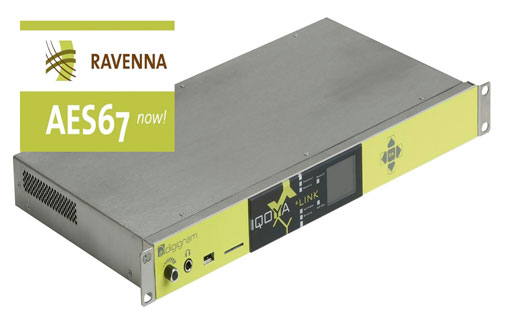 Digigram has participated in the AES67 interoperability test event held by the AES in cooperation with EBU at the Institut für Rundfunktechnik (IRT) in Munich late in 2014.
At the "Plugfest," Digigram and other select vendors demonstrated interoperability between different implementations of AES67-2013 across more than a dozen products. The success of the event reinforced the value of both the AES67 standard and the RAVENNA implementation that Digigram has incorporated into its range of IP audio codecs and sound cards.
The AES67 standard enables high-performance synchronous audio-over-IP streaming interoperability between the various IP-based audio networking products available in today's professional marketplace.
"The success of the Plugfest tests not only confirms the practical value and promise of AES67 and AES67-compatible open technology standards such as RAVENNA, but also validates our decision to implement these technologies in our IQOYA product line and sound card offering," said Nicolas Sturmel, PhD., head of research at Digigram. "The adoption of a new standard is a major shift for the industry. Thus, as we move forward into 2015, we expect additional releases of AES67/RAVENNA-enabled solutions, as well as further progress in establishing standards-based workflows that enable our customers to optimize their deployment of these solutions."
Facilitating low-latency synchronous audio distribution over IP infrastructures in radio facilities, RAVENNA enables new levels of performance and flexibility in IP audio transport. Digigram was among the first members of the RAVENNA consortium launched by ALC NetworX in 2010, and the company announced the addition of AES67/RAVENNA connectivity to its IQOYA range of audio-over-IP (AoIP) codecs at the IBC2014 exhibition. Digigram's IQOYA solutions help ease users' migration toward greater use of IP audio within their studios and ultimately facilitate more flexible design of their audio infrastructures by using standard and inexpensive IT equipment.
www.digigram.com
(CD)
Top Related Stories
Click here for the latest broadcast news stories.